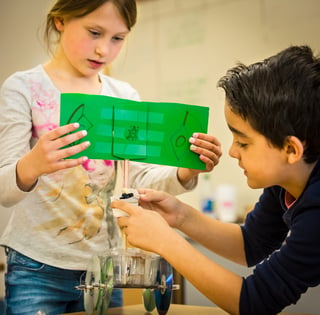 The Engineering is Elementary team has found that youth are most engaged with engineering when they're working on problems that connect to their own lives. That's why we designed our out-of-school-time curricula, Engineering Adventures and Engineering Everywhere, to guide them through the engineering design process as it applies to a real-world problem. We already have an additional real-world resource list available for each Engineering Adventures and Engineering Everywhere unit, and the EiE staff is always on the lookout for even more relevant content to help inspire young engineers. Check out these compelling connections, share them with your kids, and show them that you can find engineering . . . everywhere!
Insulated Infrastructure
In our Engineering Everywhere unit Here Comes the Sun: Engineering Insulated Homes, youth learn about the field of green engineering by investigating the enormous amount of energy it takes to heat and cool our homes and the importance of insulation in moderating this energy consumption. To help your young engineers realize how infrastructure and materials choices can have a far-reaching impact, share this WBUR story about heat islands in Boston . Heat islands—urban areas with lots of concrete and few trees—are already impacting the health of city residents and rising temperatures are expected to magnify future health consequences. Temperatures in heat islands can be up to 20 to 50 degrees hotter than surrounding areas!
Just Keep Swimming
Youth work together as biomechanical engineers to design a prosthetic device for a model fish in our Engineering Everywhere unit, Go Fish: Engineering Prosthetic Tails. Introduce them to the historical context for their engineering designs by showing them this article about one of the oldest prosthetic devices ever found—a 3,000-year-old wooden toe that was designed to give its owner the ability to balance and walk. What kinds of materials are available for their designs that weren't around when this prosthetic toe was created?
Technology Takes Flight
Kids design their own airborne technologies in our aeronautical engineering unit, The Sky's the Limit: Engineering Flying Technologies. They explore the unique capabilities of technologies that can take flight, like the ability to observe and photograph places where it would be dangerous for humans to go. A team of engineers at MIT have been hard at work designing their own flying technology—a 24-foot drone called Jungle Hawk Owl. The U.S. Air Force challenged the team to design a solar-powered drone that could stay up in the air for long periods of time to deliver communications to areas that are hard to reach because of natural disasters or other emergencies. The team considered their criteria and constraints and decided to work on a more practical gas-powered drone instead, and they were able to create a drone that can fly for five days at a time!
A Bright Idea
In the EE unit It's in the Bag: Engineering Bioinspired Gear, youth design bioinspired bags and packs for clients based on the clients' unique needs. The clients in this unit need gear for everything from transporting instruments from practice to relaying secret spy messages, but they aren't the only people who need textiles that have been engineered for a specific purpose. If you're looking to inspire the youth in your program, share the triumphant story of an all-girl engineer team in San Fernando, California who won a $10,000 grant from MIT to produce solar-powered tents for the homeless. The team wanted to find a way to help the homeless population in their community, so they created a prototype tent that folded into a rollaway backpack with working lights and USB ports. Once they present their prototype at MIT, they hope to mass produce their design and begin distribution.
BEAM Me Up
In our Engineering Adventures unit Liftoff: Engineering Rockets and Rovers, kids follow world-traveling duo India and Jacob to NASA's Jet Propulsion Lab. They explore rover design with Jacob and learn about the criteria and constraints involved in engineering a rocket as India blasts off to the International Space Station. Today, one of NASA's unique prototypes is attached to the real International Space Station as it orbits the Earth. BEAM, the Bigelow Expandable Activity Module, is a module made out of durable, fabric-like material similar to Kevlar that is expanded once it's in space. Share this NPR story about the BEAM with your engineers to show them a fascinating GIF of the module expanding on the side of the ISS and to inspire their own innovative spacecraft design.
Have you seen any interesting stories about engineering or technology in the news recently? Share them with us in the comments!