This post by Natacha Meyer and Tania Tauer was first published in Education Week on April 24, 2015. The authors are senior curriculum develpers with Engineering is Elementary.
Today's unprecedented push to train students in STEM subjects (science, technology, engineering, and math) has been primarily motivated by the need to produce a workforce capable of addressing the 21st century's global challenges. Research suggests that engaging middle school-aged youth in interactive STEM activities does more than just prepare them for STEM careers. Hands-on, open-ended engineering challenges provide youth with a fun and meaningful way to develop the 21st century skills that are critical to competency in today's interconnected global community.
Here are the top four 21st century skills you can promote in youth by facilitating engineering activities in your out-of-school time program.
Critical Thinking

As they work through engineering design challenges, youth engage in a series of steps known as the engineering design process (EDP). This process guides them to identify the problem, brainstorm possible solutions, plan, create, and test a design, and then improve upon it. Since there is no predetermined answer to any engineering challenge, youth must use their problem-solving and critical-thinking skills to develop their designs.
Each step of the EDP requires thinking critically about the criteria and constraints of the challenge. Furthermore, the EDP is iterative and requires youth to continually assess how well their designs solve the problem.
An afterschool educator who facilitated a water filtration engineering challenge told us, "I had one student who was so determined to make the filter work that he kept trying it over and over, even after class ended. It was great to see such interest in solving a problem."
In addition to promoting critical-thinking skills, the EDP is a powerful tool that youth can use to solve, not only engineering challenges, but also challenges in their everyday lives.
Creativity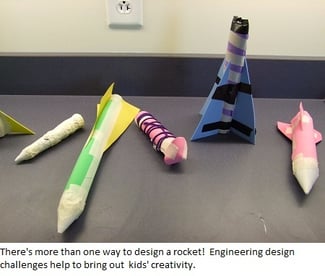 By nature, engineering challenges have more than one solution. The realization that there is more than one right answer can be liberating to youth and can activate their creativity as they develop their designs.
As one educator commented, "I was amazed at some girls who started out each week looking helpless, hopeless, and lost, but quickly shook off their 'can't do' attitude and began to experiment creatively. The experimentation was open-ended, so these girls did not have to worry about being wrong."
As they work through the EDP, youth are encouraged to imagine multiple solutions to the challenge. Because creativity is invoked early in the process, they are less likely to become overly focused on one particular solution and more likely to remain open to the possibility of alternative designs. The end result is a variety of unique design solutions, demonstrating to youth that there is always more than one way to solve a challenge, engineering or otherwise.
Collaboration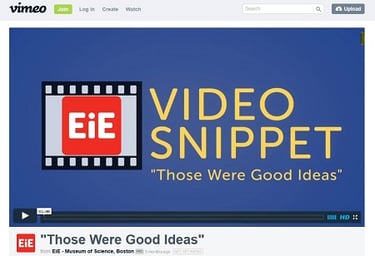 Effective collaboration skills are critical for success in the 21st century workplace, and they're especially imperative in a world that demands global cooperation. Nevertheless, working in teams can often be a source of tension for youth. Engineering activities provide an opportunity for youth to practice their cooperative skills. Members of a team must negotiate as they engineer their designs and identify areas for improvement. The video above shows young engineers collaborating to design a model of a water-permeable membrane.
One educator described the collaboration that occurred during the engineering challenge she facilitated: "I was extremely impressed by the way the boys were engaged in the activities and how well they cooperated with one another . . . . The boys were respectful of each other's feelings and were excellent about accepting and testing everyone's ideas in order to prevent anyone from having their feelings hurt. I think the activities in this unit helped the boys grasp the importance and benefit of teamwork."
The collaborative experiences that are fostered during engineering challenges contribute to youth's ability to work with their peers in a respectful and productive manner. These are skills they can continue to utilize throughout their professional and personal lives.
Read more about engineering and collaboration on the EiE Blog.
Communication

The ability to coherently communicate their work is a critical skill for youth to master regardless of their projected career path. When youth are engaged in authentic engineering challenges, they often have ideas that they're really excited about. This provides great intrinsic motivation for them to communicate clearly with their group members. They want their ideas to be heard, and they want to solve the engineering problem in an effective way.
Once groups have tested their prototypes, they need to communicate ways in which their designs failed and identify targeted ways to improve them. And finally, an essential step of engineering is presenting work to others, empowering youth to take ownership of their designs and identify themselves as engineers.
An educator recounted this transformation in a youth during a presentation: "[I overheard] one of our more quiet and seemingly often un-engaged youth clearly explaining the EDP process to a guest. When the guest moved on, one of the staff went up to her and gave her a spontaneous hug and said, 'Wow! That was perfect! You really ARE an engineer!' And she just beamed."
Conclusion
Having the skills to think critically, be creative, collaborate with peers, and communicate effectively is a fundamental need for youth if they are to be engaged in our global society. Engineering challenges that are open-ended, globally relevant, and engaging provide compelling experiences that promote these 21stcentury skills.
---
Here's a list of STEM resources you can use in your afterschool program to foster 21st century skills.
Engineering is Elementary is a project of the National Center for Technological Literacy at the Museum of Science, Boston.