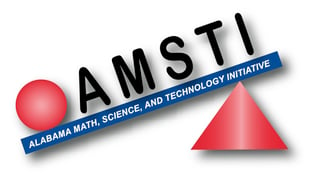 A recent study by the business data company WalletHub ranked Alabama one of the worst states in the nation for quality of K-12 education.
The state has been working hard to change that, though, notably with a plan to improve STEM education through America's largest and most comprehensive math and science program, the $30-million Alabama Math, Science, and Technology Initiative, or AMSTI.
Recently, we learned that Engineering is Elementary will be part of this initiative, and in a big way. Alabama just adopted new science standards that include engineering practices . . . and EiE was selected as a resource that can help schools meet those standards.
Stocking Up Statewide
EiE curriculum materials are being stocked at all 11 of the AMSTI support centers around the state, so that starting in fall of 2016, EiE curriculum materials will be available to the 600 Alabama elementary schools the organization serves; over the next few years, AMSTI officials estimate that about 140,000 elementary students—fully half of all the first through fifth graders in the state—will learn with EiE.
"We choose our STEM curricula through a very rigorous selection process," says ASMTI director Steve Ricks. "Our emphasis is on hands-on, inquiry-based learning that relates to students' real-world experiences, along with high-quality professional development for teachers. We're really happy to bring in EiE to help meet those goals."
New Reach, Longstanding Relationship
"We're so pleased to see EiE become part of the statewide offerings; we've already used it, and we know it works," says Ellen Thompson, a science specialist at the AMSTI center located at the University of Alabama in Huntsville's Institute for Science Education (ISEd).
Though AMSTI's large-scale adoption of EiE is new, our team has been working with Alabama educators for nearly a decade. "I first heard EiE director Christine Cunningham talk about the curriculum at a conference in 2006," recalls Brenda Terry, executive director of the Alabama Mathematics, Science, and Technology Education Coalition. "I brought the information right back to my team, we solicited some funding, then we identified some lead teachers from schools in our area and brought them in for professional development."
In the years that followed, a number of area schools started to implement EiE. Decatur City Schools adopted the curriculum district wide and, partnering with United Launch Alliance, has also offered an Elementary Engineering Summer Camp for 4th and 5th graders since 2009.
Raytheon Support Plants a Seed
Support from the technology company Raytheon helped to amplify the impact of ISEd's early use of EiE. "Raytheon has a big presence in North Alabama, and they do great things for educators," says Thompson.

In 2011, Raytheon made a $2 million award to the Museum of Science, Boston for a set of initiatives that would bring EiE to high-needs school district across the country. One of these initiatives established three "EiE hub sites" for professional development, including the ISEd/AMSTI support center at the University of Alabama in Huntsville.
With the new support, the center hosted two EiE workshops for more than 60 Alabama elementary teachers, plus, following a "train the trainer" model, an EiE Teacher Educator Institute (TEI) that prepared 33 professional development providers to offer more EiE workshops for local teachers. "The TEI participants included a number of educators from the State Department of Education," explains Terry. "So this past year, when it came time to select curricula to support the new standards, they were already familiar with EiE and really embraced it."
The Raytheon award to MOS had also created a scholarship program that brought EiE curriculum materials and professional development to individual teachers and to school districts; four Alabama teachers and the Athens City Schools received these scholarships.
Through these initiatives collectively, between February 2013 and January 2015, as teacher educators trained new teachers to use EiE, and as these teachers went on to use the curriculum in their classrooms, the Raytheon support impacted an estimated 12,440 Alabama students.
"When the Athens City Schools started to implement EiE, the AMSTI center at Athens State University learned about the curriculum, and that center started to deliver EiE PD, too!" says Terry. Meanwhile the Huntsville center went on to prepare about 50 AMSTI science specialists to facilitate EiE workshops. ISEd also partnered with Raytheon two years in a row for a National Engineers Week special event where 200 fifth graders from three school districts attended a special engineering event to work through an EiE design challenge.
"Alabama's adoption of EiE shows the meaningful impact we can have when we all work together to improve STEM education," says Kevin Byrnes, vice president, Raytheon Huntsville. "EiE helps teachers bring engineering and technology concepts to life, enabling them to excite students to become the innovators of tomorrow."
Making a Match with State Standards
Going forward, the 11 AMSTI centers will make four EiE curriculum units available to teachers to support science learning goals in grades 2, 3, and 5:
This coming summer all 11 AMSTI support centers will offer EiE professional development to local elementary teachers.
"Our teachers are a little apprehensive, but also looking forward to it," says Thompson. "I did a training recently for 5th grade teachers focused on the Oil Spills unit, and several of the teachers had already tried EiE with their classes, together with a science kit called Ecosystems. They said the two curricula were a natural blend; they really saw students using critical thinking and problem-solving skills."
Thompson says teachers like the way EiE storybooks are based on real-world events. "That has been a huge plus for our teachers, having a real-life problem as the focus for the engineering design challenge," she says. "We live near the Tennessee river, where students constantly see barges go by carrying oil and gas; so this could happen in our area. It gets kids thinking about how a spill could impact the environment."
"The Parachutes unit is also great for the way it integrates math skills," Thompson continues. "Kids create charts and graphs and make lots of measurements . . . that falls right in line with our new math standards, and the aerospace engineering focus is great considering NASA's Marshall Space Flight Center is right here in Huntsville."
AMSTI officials say that since the initiative was launched, they've seen improvements in standardized test scores—and also improved student attitudes toward science and math. Those are just the results we've seen in our own research on EiE. We're so pleased to be a part of Alabama's effort to promote educational equity and build excitement for STEM.
Get EiE news every week . . . subscribe to the blog!
Engineering is Elementary is a project of the National Center for Technological Literacy at the Museum of Science, Boston.