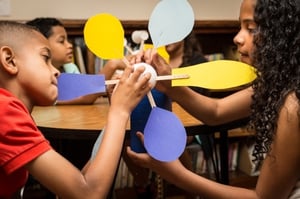 Engineers Week is one of our favorite times of year. Each year, we celebrate the engineering field and the amazing engineers who solve problems, design technologies and make our world safer and better. This year's theme, "Engineers: Inspiring Wonder," is all about inspiring kids to discover their inner engineer and become innovative problem solvers. As the DiscoverE website describes, let's "encourage them to wonder, 'Is engineering my future?'" To help educators inspire wonder this week, we thought we'd share our favorite videos of kids engineering, working together, learning, and of course, being inspired.
Who Can Be an Engineer? You Can!
Teachers play an important role in helping students to see themselves as engineers. We just love how Ms. Chentel Neat helps her second grade class realize that they can go on to college and become engineers!
Look What We Created!
Inspiration is infectious. In this clip, we love how one group had a great idea and others followed suit!
Priceless!
In this clip, first grade teacher Julie Mock describes how rewarding it is to see her students creating so many different solutions to the same open-ended engineering design challenge.
"You Know More When You Engineer"
Don't just take Ms. Mock's word for it! In this next clip, one of her students describes why she loves engineering and why she's interested in becoming an engineer.
"I'm Starting to Love Science"
We love this clip where a young girl working with her classmate to design a strong wall admits that she's starting to love science. This really shows how hands-on engineering activities can inspire wonder and spark a lifelong interest in STEM.
Everyone Can Engineer
It's always inspiring to hear from real kids how engaging in an engineering design challenge has changed their mindset about STEM and their peers. We particularly love this quote from Max, who says of his peer, "Before this, I didn't know that Charley was a genius!" It's a great example of how engineering design challenges can transform a classroom.
For more exciting clips of kids engineering, check out our video collection!
Engineers Week is also the perfect time to think about improving your teaching practice. Sign up today to join us for our free March webinars. We'll explore questioning strategies that support your students and share tips for managing materials in a hands-on, project-based classroom environment.