http://www.eie.org/eie-classroom-video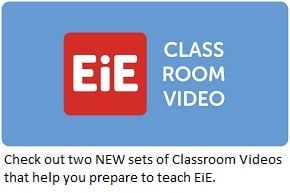 Do you teach the Engineering is Elementary (EiE) unit "Solid as a Rock: Replicating an Artifact" or "A Slick Solution: Cleaning an Oil Spill?" You'll want to check out the brand-new Classroom Videos for these units.
If you haven't taught an EiE unit in a while, Classroom Videos are great for a concise refresher. They help you see what each activity looks like when real kids are working through it. Use the helpful reflection questions that accompany each video to identify highly effective pedagogical practices you can put to work in your own classroom.
Cultivating Communication Skills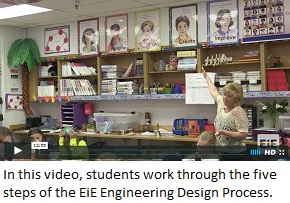 To see how this works, check out the Classroom Video for Lesson 4 of "Replicating an Artifact," filmed in Ms. Laura Keeling's classroom at Tully Elementary School in Louisville, Kentucky. Laura uses a variety of strategies to help students develop their communication skills.
In just the first four minutes of the video, she . . .
reinforces writing skills when she asks a student why she chose limestone as a material to carve into, then reminds the student to also write down her verbal response
gives students an alternate way to answer a question, by "popping up" from a crouch instead of raising their hands
demonstrates why taking notes is important: She asks for a volunteer to talk about why his group chose a certain material, and points out to the class how he refers to a written plan to support his explanation.
Making Materials Management Easy and Efficient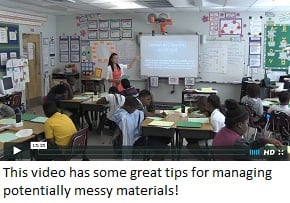 Classroom videos can give you some great ideas for efficient materials management. Check out the Classroom Video for Lesson 4 of Oil Spills, shot at Royal Palm Elementary School, Lauderhill, FL, in the fourth-grade classroom of Ms. Christina Hung.
This lesson calls for students to work with a model river that's been polluted by an "oil spill" (vegetable oil mixed with cocoa); the challenge is to design a system for cleaning up the spill as completely as possible.
As you can imagine, a classroom activity that involves water AND oil in shallow pans has the potential to be pretty messy. But scroll to the six-minute mark in the video to see Christina employing several strategies to reduce mess and keep the activity moving forward efficiently.
She covers each table with plastic wrap to protect the surface from spilled water or oil.
She hands each group of students a bowl where they can dispose of waste such as soiled cotton and yarn. This gives her a jump-start on clean up and also contains the mess.
She has pre-measured the samples of water for each group and placed them on the tables, so students aren't carrying water around the room.
Perfect for Preservice Teachers, Too
We designed Classroom videos for classroom teachers, but they're also a useful resource for college faculty who work with preservice teachers. With the click of a mouse, college students can peek inside elementary classrooms across the country and see 1) young children engaged in the science and engineering practices specified in the Next Generation Science Standards and 2) highly skilled teachers demonstrating effective ways to teach engineering.
We're so grateful to Ms. Keeling, Ms. Hung, and all the teachers who have opened their classrooms to our videography team.
Read about the making of the EiE Video Collection
Engineering is Elementary is a project of the National Center for Technological Literacy® at the Museum of Science, Boston