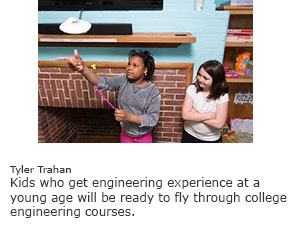 The American Society for Engineering Education (ASEE) is a leader in the movement to promote and improve engineering education. When ASEE holds its
annual conference
this week in Indianapolis, EiE will be in the spotlight.

The director of our home institution, Dr. Ioannis Miaoulis, will receive the ASEE "President's Award" in recognition of work to advance both formal and informal engineering education nationwide done through the Museum's National Center for Technological Literacy, where EiE is based.

EiE director Dr. Christine Cunningham has also been recognized by ASEE recently, as an ASEE Fellow, a professional distinction that's awarded to top leaders in the field of engineering education. One highlight of the conference's Distinguished Lecture Series will be her presentation titled, "Are You Ready for the Next Generation? How a New Approach to K-12 Education will Develop College-Ready Students with Engineering in Mind."

It's a little mind-boggling to consider that just one decade ago, engineering was a subject almost unilaterally reserved for college students. As recently as four years ago, the idea of teaching first-graders engineering was an eye-brow-raising novelty, as this New York Times article from 2010 relates. Meanwhile college engineering programs recruit students with high aptitude for math and science, but they don't necessarily expect freshmen to come in with much knowledge of the field or its practices.

But the recent release of new "Next Generation Science Standards" (NGSS) means colleges could start to see freshmen with a new set of skills. The standards recommend that students receive instruction in engineering as well as science starting as early as kindergarten and continuing through high school, a mainstreaming of findings by EiE and many others that engineering instruction at an early age brings a host of benefits for students.

"EiE has seen explosive growth in the use of our elementary engineering curriculum nationwide, and others are launching similar programs," Cunningham says. "As time goes on, colleges and universities could see a whole new crop of students applying to engineering programs—students with more knowledge and experience. So it's worth thinking ahead. What will this mean for college instruction? And how can colleges be ready?"

One particular challenge for college programs, Cunningham says, could be that "Next Gen" students may bring new expectations about college engineering coursework. "K-12 engineering programs like EiE tend to engage kids in hands-on projects tied to real-world problems," she notes. "But college programs often focus on foundational courses in the first two years and save the actual engineering for later. To retain students—students who'll graduate as the engineers America needs so much—some college programs may need to restructure."

Cunningham notes she sees her ASEE presentation as a dialogue, not a prescription. "College engineering programs nationwide are already thinking hard about how to recruit diverse students and retain them in engineering," she says. "My goal is to share how the new Next Gen standards are changing pre-college education and open a conversation."

If you're headed to the conference in Indianapolis this week, please join us for this Distinguished Lecture on Wednesday, June 18, at 10:30 in the Indiana Convention Center. Or share your thoughts here—please join the conversation.

The 2014 ASEE Annual Conference in Indianapolis, Indiana, includes a number of other presentations from Engineering is Elementary.
Engineering is Elementary is a project of the National Center for Technological Literacy at the http://www.mos.org/.