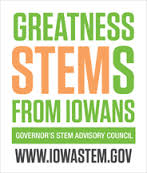 "Greatness STEMS from Iowans." That's the slogan of the Iowa Governor's STEM Advisory Council, which works to promote STEM education, innovation, and careers across the state. One of the Council's ambitious initiatives is the Iowa STEM Scale-Up program, launched in 2012 to promote interest and achievement in STEM for K – 12 students across the state by giving educators greater access to exemplary STEM curricula—and to the professional development needed for successful implementation.
Here at EiE, we were thrilled to learn that for the fourth year in a row, our flagship elementary engineering curriculum has been selected for the STEM Scale-Up. In all, fourteen curricula were selected.
Spreading STEM Across the State
Here's how the Scale-Up works. After the set of examplary curricula are selected, educators at schools, afterschool programs, and other learning communities identify the curriculum they would like to use and apply for Scale-Up funding in a competitive process.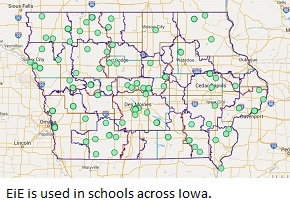 "The advisory council has three to four times as many applicants as they can give out awards," notes Christopher Soldat, a science curriculum consultant at Iowa's Grant Wood Area Education Agency (GWAEA) —and the guy who first recommended EiE for inclusion in the STEM Scale-Up program. "So the selection committee weighs need, geography, and local demand—looking for underrepresented areas, but also making it a priority to distribute support evenly across the state."
The educators selected for the Scale-Up attend professional development workshops, then receive a complete set of curriculum materials. The state legislature allocates a significant sum each year for the Scale-Up, more than $3 million annually. Pre- and post-assessments help the STEM Advisory Council evaluate the success of the program.
Soldat's job responsibilities include facilitating EiE workshops across the state, and for the past few years, he's been doing a lot of that! "I've travelled to some places I didn't even know existed," he says, "working with a wide range of educators, from small rural districts where they're still teaching old-school, with science textbooks, to schools that use an all-online science curriculum and provide a laptop or iPad for every student."
Soldat says last year, 232 teachers from 91 Iowa school districts learned to implement the EiE curriculum. That means, in 2014 – 15 alone EiE reached an estimated 11,500 Iowa elementary students. This year, he expects to introduce another 150 educators to EiE. The STEM Scale-Up program as a whole is expected to reach more than 100,000 students in grades K – 12, or one-fifth of all school-age children in the state.
Good Programs Make a Difference

An evaluation consortium looks at the data collected through student assessments. The data so far (Figure 1, right) indicate students who learn with the Scale-Up curricula develop a better understanding of science and engineering and greater interest in STEM careers—results that map right on to our own research into the impacts of learning with the EiE curriculum.
Meanwhile, the Iowa Board of Education is expected to vote this month on implementing the Next Generation Science Standards (NGSS); two review committees have recommended full adoption. "About half our districts have already moved independently to carefully consider NGSS with regard to their curriculum and instructional planning," Soldat says. "But statewide adoption will definitely increase the focus on engineering as a key component of an integrated science program."
In addition to facilitating workshops and helping educators with EiE implementation, Soldat will staff a booth at the Iowa State Fair this month, offering the hundreds of thousands of fairgoers who stroll past a chance to try their hand at an EiE engineering activity.
"In the past, we've had an out-of-the-way location on the fringes of the fairgrounds," he says. "This year we're right up front, on the main concourse"—a sign, perhaps, of how the state is putting STEM education in the spotlight.
Engineering is Elementary is a project of the National Center for Technological Literacy® at the Museum of Science, Boston.