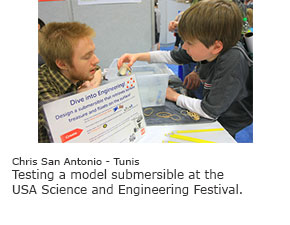 We're still a little soggy from our stint at the gigantic USA Science and Engineering Festival in Washington, DC, last week. More than 325,000 visitors checked out interactive experiences ranging from a model brain to flying robotic musicians; at our EiE tables, kids designed a model submersible for ocean exploration, then tested its floating and sinking abilities.



We were thrilled to be one of more than a dozen projects selected by the National Science Foundation (NSF) for its giant exhibit. The event was launched three years ago as a way to spark kids' interest in science and engineering--and address national concern that not enough students are proficient in STEM subjects when they graduate and interested in pursuing STEM careers.

Festivals like this one are an excellent idea, and we definitely saw plenty of excited kids! But when the weekend's over and kids are back in school, will they get a chance to build on those experiences? A recent report from Change the Equation says, too often our school systems fail to offer ALL students an equal chance to expand their horizons. Low-income and minority students are more likely to be tracked into less advanced classes. They're less likely to attend well-equipped schools that offer challenging math and science courses.

EiE is committed to helping change this particular equation. Preliminary research from the Engineering is Elementary Seed Leadership project, led by Dr. Heidi Carlone of the University of North Carolina at Greensboro, suggests that when elementary students engage with real-world hands-on engineering challenges, the needle starts to shift on how teachers classify students' abilities—and how students see themselves. This short video summarizes project findings.

Carlone's work is ongoing. Meanwhile, we are also engaged in a rigorous, three-year, "gold standard" study, supported by NSF, that will definitively evaluate the efficacy of the EiE curriculum. Stay tuned!

Engineering is Elementary is a project of the National Center for Technological Literacy at the http://www.mos.org/.