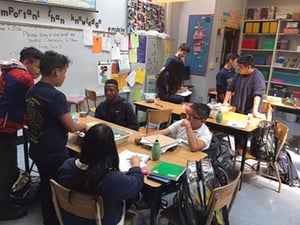 Back in the 1920s, the Christopher School was built to serve students with disabilities, including many affected by polio. Today, this Chicago public school serves an unusually diverse student population. "Our mission statement is 'Teach All, Reach All, Include All,'" says Mary Meade, the school's middle-school science coordinator. "Regular education students learn alongside students with severe and profound physical and cognitive disabilities."
Like every teacher, Mary needs lessons that help every student learn. She also looks for lessons that relate to the real world. That's how she discovered Engineering Everywhere (EE), EiE's out-of-school-time curriculum for ages 10–12.
"I have taught for thirty-five years and EE is my favorite!" Mary says. "Last year I needed to teach a unit on water as part of the middle school curriculum. I used the EE unit Don't Runoff: Engineering an Urban Landscape with my eighth graders—a fabulous group that included regular education learners and students with physical and/or learning disabilities, many of them using wheelchairs."
Students Take the Lead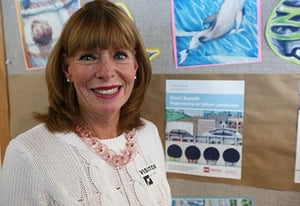 Runoff teaches students about "green infrastructure," or buildings, roads, and parking lots that incorporate live plants and porous paving materials to control flooding and pollution from storm runoff. Mary encouraged her students to take the lead in the activities, starting with the video that introduced the unit, about how green infrastructure in Boston has helped clean up the Charles River.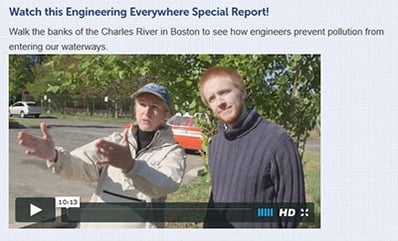 "We live in Chicago—the students didn't know anything about the Charles River," Mary says. So her students launched into research mode: listing their questions about the Charles, choosing partners and deciding who would research what, and getting out laptops to start looking for answers.
That led to questions about their own waterway, the Chicago River. "So they researched our river, too!" Mary says. "Their lab notebooks and illustrations were incredible."
Inspired to Learn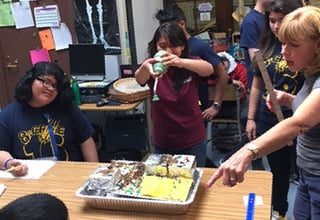 The engineering activities—designing, building, and testing a model city that incorporates green infrastructure—had particular impact on a student Mary describes as "kind of a class clown." "He was rarely motivated in class," she says. "But this unit inspired him to work SO hard!"
"I like the way EIE units let students learn from each other," Mary continues. "One of my girls who is a great leader took this boy under her wing. She would explain each step and check his work. Whenever it was time to choose groups he would say, 'Can I please be in her group? She helps me learn so well.'"
Then there was the student whose disability made writing very difficult. "Usually, one of her group members wrote for her," Mary says. "But this time, when she handed in her report—it was about which materials would absorb the most water—it was very different from her usual class performance. I could not believe how much thought went into it!"
Inspired to Write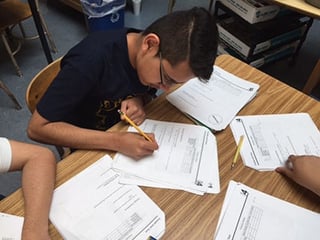 Mary's class motto is "Never say I can't, say I will," and it was exemplified in this student's work at the end of the unit. Her report described her team's debate over whether to use sponges to soak up water, or whether pieces of felt would be absorbent enough; how the team researched permeable pavement designs; and why they ultimately decided that sponges and cotton balls would be the best approach.
"I said, 'This is so good! Who wrote it?'" Mary says. "She had written the entire report herself. I said, 'That must have taken you a long time,' and she said, 'It did, but I wanted to do it.' That was striking, that she did her own writing. I really saw a growth in her thinking process and motivation with EiE."
When the unit wrapped up, the students held an Engineering Showcase for their parents and the principal. "You couldn't believe the turnout," Mary says. "The students got up and gave PowerPoint presentations with confidence and enthusiasm—they taught their parents and me so much!" Later, one of her students said to Mary, "We had the best memories of our childhood here. Thank you for pushing us to do our best."
Engineering Connects to the Real World
Despite all their research, most students had never seen the Chicago River. "They'd never been on a boat . . . many of them had never been out of their neighborhood," Mary says. "So at the end, we took a tour down the Chicago River. We saw the locks, we talked about what the river was used for, and we even walked around looking for permeable pavement and strategizing ways to prevent runoff."
Lessons That Stick with You
At the end of the school year, one of Mary's students transferred to a new school. A few weeks ago, Mary received this email:
"Guess what, Mrs. Meade? Do you know how we used the Engineering Design Process? Well, my new science teacher didn't know what it was. I told her my old science teacher would make us use it during her class, and she made copies and gave everyone a copy, and now we use it and she said it was wonderful. So thank you Mrs. Meade for giving us this paper, it helped me at Christopher and now it will help me at my new school."
Meanwhile, back at Christopher, Mary notices that when it rains, her former students get excited. She says, "They all come in talking about runoff!"
Engineering is Elementary is a project of the National Center for Technological Literacy® at the Museum of Science, Boston.