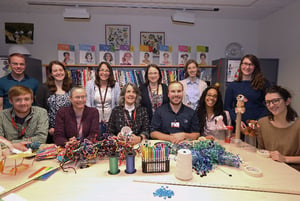 Designers at work! Our development team has started work on a new PreK-K curriculum.
In 2009, President Obama launched "Educate to Innovate," a campaign to improve K-12 STEM education. Then, in 2013, he advocated for high-quality preschool for every child. Now these initiatives are connecting: earlier this month, the White House put out a call to support America's youngest students with early STEM education.
The Engineering is Elementary project is already on board. This winter, we started work on a PreK-K engineering curriculum for ages 3–5 that is modeled after our award-winning EiE curriculum for ages 6–10. The three-year, $425,000 PreK-K initiative is funded by entirely by the EiE project at the Museum of Science, Boston.
The Need for Early STEM
Read the NSTA position paper on Early STEM
In a recent position paper, the National Science Teachers Association noted that early exposure to science and engineering practices is critical for young children. It fosters curiosity about the outside world and lays the foundation for science learning in grades K–12 . . . and throughout life.
According to the 2013 US Census, America is home to more than 16 million three-to-six year olds, and about 12 million of them are enrolled in some kind of early education program. Yet in America today, high-quality STEM curricula for these programs are so rare as to be practically non-existent.
"A few publishers and science manipulative companies offer resources for preschool or kindergarten," notes Martha Davis, the curriculum developer who leads the EiE PreK–K team. "But none are supported by research findings that demonstrate effectiveness." What's more, most of the available early STEM resources are simple, stand-alone lessons rather than comprehensive curricula; those that are collections of STEM activities lack a unifying framework or context.
Research-Based and Classroom-Tested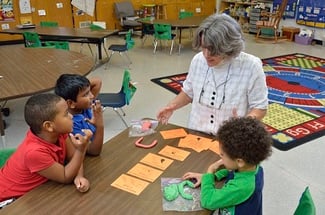 In preschool and kindergarten, students are still learning how to play (and work) together.
Our new PreK-K curriculum, like our flagship Engineering is Elementary curriculum for grades 1–5, will be research-based and rigorously evaluated. Our team is already combing the literature and observing children to understand the educational approaches most effective for preschoolers and kindergarten students.
As PreK-K educators know, the differences between elementary and preschool students can be significant! For example, elementary classroom engineering helps students develop the important skill of collaboration—something working engineers rely on. But preschool students are just starting to develop the ability to engage in group play, so engineering lessons need to frame collaborative work in an age-appropriate way. And while older students engaged in classroom engineering readily develop the view that failure is just a step in the learning process, preschoolers are easily frustrated by failure and need special kinds of support. Finally, preschoolers are still developing fine motor skills; like cutting with scissors, using a tape dispenser, or tying knots; that tend to be part of K-12 engineering activities.
PreK-K Educators Wanted!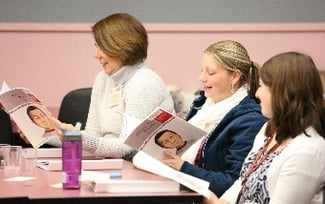 We're seeking volunteers to help review and pilot-test PreK-K materials.
With this in mind, the new PreK-K curriculum will be developed in close consultation with the educators who know young children
best: preschool and kindergarten teachers. "We firmly believe one reason for the
success of EiE curriculum was our iterative approach to design—that during the curriculum development process, we asked for methodical and repeated feedback from elementary teachers, who truly know all of
the challenges, constraints, and opportunities in real classrooms," says EiE founder and director Christine Cunningham.
In the next few months, we'll start piloting new activities and looking for sites to be part of our field test. We're also looking for early childhood experts who would be willing to review our materials and provide feedback. If either of these opportunities appeals to you, please complete this form to provide your contact information.
To receive regular updates about progress on our PreK-K initiative, please sign up for
EiE News, our monthly e-newsletter.
Engineering is Elementary is a project of the National Center for Technological Literacy® at Museum of Science, Boston