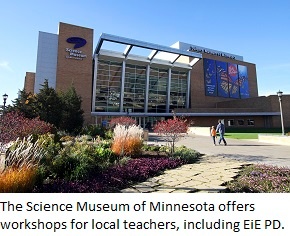 One of the very first organizations to become part of Engineering is Elementary's national network of professional development (PD) providers was the Science Museum of Minnesota (SMM). Since then, SMM educators have developed an innovative (and highly effective) approach to EiE PD. It's called an "immersion residency."
A typical teacher workshop takes you out of your classroom, to attend a training someplace else. With immersion residencies, SMM sends an experienced EiE educator right to your classroom, to teach an EiE curriculum unit over the course of several days while you observe and then co-teach. There's also time for you to discuss and ask questions. SMM evaluators say this up-close-and-personal approach is getting great results!
Immersion Residencies Jumpstart Teacher Knowledge, Skills
"We created these residences about six years ago, as part of a Cargill Foundation-funded project," says SMM's Emily Poster. "The goal was to implement EiE district wide in Minneapolis and Hopkins Public Schools—comparing implementation in a large, urban district to a smaller, suburban district, to see 'what works' in different kinds of schools."
"The folks at Cargill knew Minnesota schools were soon going to have to meet new science standards—and that these new standards would include engineering," Poster continues. "So they were eager to see EiE implemented quickly."
At the time, SMM already had a residency program where their science educators traveled to area schools to facilitate lessons on certain science topics; to meet Cargill's goal of fast implementation, Poster's supervisor, Larry Thomas, came up with the idea of building on this model. "He thought it would really jumpstart elementary teachers' knowledge, skills, and comfort with engineering if they could see skilled facilitators teaching EiE lessons, right in their own classrooms," Poster says.
When Teachers Learn Effectively, Students Do Too!
SMM tried the immersion approach with about a third of the teachers in the study and found that it met the goal of fast implementation. "But as we went along, we also realized it was having a huge impact," Poster says.
"Compared to those who attended a conventional workshop, the residency teachers were much more prepared and confident. Not only that, but their students were scoring higher on our assessments."
(For a summary of research findings from the project, click HERE.)
Poster says, one advantage of the immersion format is that you see exactly how your own students respond to the lessons. At a conventional EiE workshop, you do put on your "student hat" and consider the engineering activities from the point of view of a student. "But you're in a room with other grown-ups, not actual elementary students," says Poster. "It's just not the same as seeing genuine reactions from young children."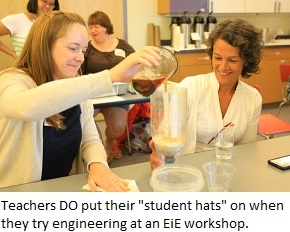 Another advantage of the residencies is that they offer a candid, unstaged demonstration of pedagogical techniques for teaching engineering effectively. "For example, how to help students learn from failure," Poster says. "Some teachers don't have much experience teaching that. Our instructors can demonstrate effective questioning techniques, so that when kids engineer a technology that doesn't work perfectly, they're still excited by the possibilities and ready to try again."
Modelling Materials Management
Finally, Poster notes that a big part of teaching engineering is the materials management—you need a lot of stuff, and you have to organize it efficiently. "This can be difficult to communicate in a workshop, but it's easy to model in a classroom," she says. "For example, EiE's Water Filters unit can be pretty intimidating; you have to collect lots of recyclable materials in advance, assemble the filter stations before the students come to class; and once the lesson starts, figure out the best way to distribute materials to students. Seeing an experienced teacher model all this works really well."
SMM staff surveyed teachers who had been through residencies to see what they thought about the experience. "I learned a lot from watching [the SMM instructor about] how to get the students engaged, excited, and how to take learning to the next level; she always had great follow up questions to end the lesson and to get the students excited for the next day, said Mari S. "I am very thankful that a resident taught the lesson first," said Lee Anne S. "I feel prepared for next year."
One of the hallmarks of engineering is that there's always more than one solution to any challenge. The immersion residency program at the Science Museum of Minnesota shows that this approach holds just as true when you're designing teacher professional development as it does when you're designing water filters!
Engineering is Elementary is a project of the National Center for Technological Literacy® at the Museum of Science, Boston.