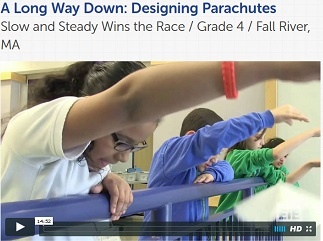 Short videos of young engineers in action will be a highlight of this elementary webinar.
You're invited! On Thursday, Sept. 29th at 4:00 EDT, Engineering is Elementary will offer a webinar for elementary educators who are integrating engineering in their classrooms. "Fostering Engineering Habits of Mind—Encouraging Elementary Students to Think like Engineers" is a one-hour interactive session where you'll learn about the positive habits of thinking and learning that your students develop when they engineer.
You don't need to be an EiE teacher to benefit from the session! Whether you're a classroom teacher who is new to teaching engineering, a teacher who already makes engineering part of the school day, or a STEM coordinator who supports and coaches elementary teachers, you'll come away with new teaching insights.
Engineering Habits of Mind—What, Exactly, Does that Mean?
Education researchers Art Costa and Bena Kallick define habits of mind as "the thinking strategies intelligent people deploy when confronted with a problem that has no immediate, obvious solution." "At EiE we believe that a well-designed engineering curriculum can help students develop as many as sixteen unique 'engineering habits of mind'—problem-solving strategies such as 'envisioning multiple solutions,' or 'making evidence-based decisions,'" says EiE founder and director Christine Cunningham. "Developing these habits can help students succeed both in engineering and across the curriculum."
What You'll Learn from This Webinar
One highlight of our new "Habits of Mind" webinar is an activity where you review short videos that show elementary students engaged in engineering, to identify the different habits of mind they're employing. "We'll also discuss the connections between EiE's engineering habits of mind and the Next Generation Science Standards (NGSS)," says EiE professional development provider Karen Saur, who will be facilitating the workshop.
The session builds in time for you to reflect on how your students may already be building engineering habits of mind. "You'll also explore how you can continue to support them in applying these ways of thinking," Saur says. "And when the workshop wraps up, each participant can take away an 'Engineering Habits of Mind' observation sheet to use in their classroom."
"We find that learning more about how engineering develops these positive habits of mind helps educators be more thoughtful in how they approach their teaching strategies," Saur notes. "You'll be able to apply what you learn to the questioning strategies you use with your students, and to your use of assessments for engineering activities."
More Webinars to Come
The September 29th webinar is a pilot test for what we hope will become a regular offering in the suite of digital professional development experiences EiE is currently developing. "We're working actively to learn what needs teachers have, then try to meet them." Saur says.
EiE's "Habits of Mind" webinar is made possible thanks to a Global Impact Grant from Cisco. Attendance is limited to 100 participants, so we encourage you to register today. (And be sure to log on a little early on the day of the workshop to claim your seat!)
Engineering is Elementary is a project of the National Center for Technological Literacy® at the Museum of Science, Boston.