Every Thursday on the EiE Blog, we share classroom-tested teaching tips or answer your questions.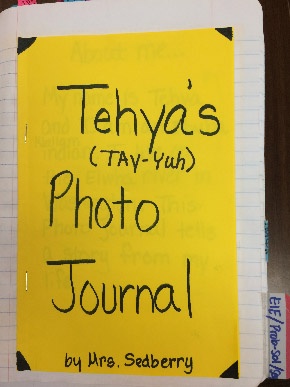 Boost literacy skills with this photo journaling activity.
Today's Engineering is Elementary teaching tip comes from Michelle Sedberry, a K-12 science specialist and EiE professional development provider from Lubbock, Texas. Lubbock has a high proportion of English Language Learners (ELL); Michelle developed this fun photo journaling activity with their needs in mind. It helps to connect English Language Arts and engineering.
Fun with Photos
This activity integrates with Tehya's Pollution Solution, the storybook for the EiE unit "A Slick Solution: Cleaning an Oil Spill." Tehya is a Native American living in the Pacific Northwest; one morning, while working on a photography project, she discovers an oil spill on a nearby river. She alerts authorities, then goes on to document the clean-up.

In the EiE storybook Tehya's Pollution Solution, a young photographer documents an oil spill cleanup.
"Because Tehya is a photographer, I thought photo journaling would be perfect for this unit," Michelle says. The activity engages students in matching photographs to the events in the book.
Try It in Your Class
Preparation:
DOWNLOAD the file "Photo Book Lesson 1" (or choose your own photos online: 16 in all, two for each book chapter)
Photocopy the photos (in color if possible)
Make as many sets as you need for your class
Cut out the photos
Collate the sets in plastic bags, so they're easy to hand out
Make "journals" for each student (three sheets of plain paper, collated and folded in half, works well)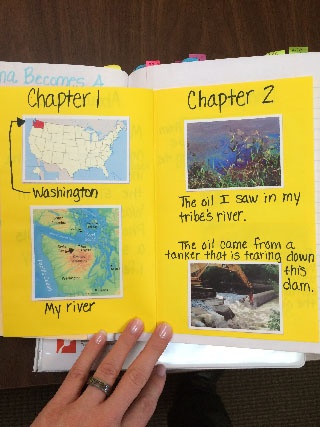 This activity helps students learn about story sequencing.
Teaching:
Read the first chapter aloud to students*
At the end of the chapter, stop reading
Ask students to figure out which two photos best match the events described*
Repeat until you've read all the chapters
Students take turns sharing which pictures they selected for each chapter
When students don't agree, discuss!
Students put their photos in order and paste or tape them in their photo journals
Students write a short summary of each chapter under the photos
*MODIFICATIONS for older students:
In step 1, students read the chapter independently
In step 3, don't tell students how many pictures must match each chapter!
Helps You Meet Standards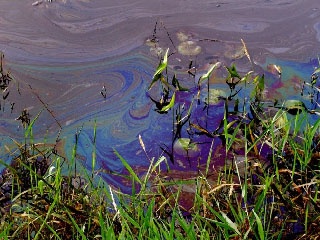 Clean river, or polluted? Can you see oil on the water?
"Many of our students struggle with language skills and vocabulary," Michelle notes. "The storybooks are important—they anchor the unit—but they're comparatively long, with vocabulary words most ELL students don't know. This activity maps well to the 3rd through 5th grade standards in Texas, including speaking, writing, and understanding sequencing (beginning, middle, end). When students write their one- or two-sentence summaries for each chapter, they can cast themselves in the role of Tehya—or they can add their own voice to the story."
Michelle notes that careful photo selection can prompt some lively class discussions! "For example, I've included a couple pictures of the river in the Photo Book," she says, "but only one actually shows the oil on the water—you have to really look for the rainbow swirl! It makes students go back and re-read the chapters on their own very carefully."
Boost Comprehension and Confidence
Jessica Ball, a fifth-grade science teacher who used the photo journal activity with her students at Crestview Elementary, calls it "amazing!" "This activity is fun and engaging and can be implemented in your classroom with little added preparation," she says. "Discussing the story in small chunks boosts student comprehension, and I was also able to formally assess my students as we read each chapter."
Jessica thinks that waiting until after reading the book to make the photo journal could have been overwhelming for students. Working on one chapter at a time helped them build confidence in their ability to comprehend scientific text. "I also like the way the activity takes students beyond just reading the text, to discussing and writing about it," she says.
Go Digital
If you have a SMART Board in your classroom, take this lesson high-tech. "I do this in EiE teacher workshops," Michelle says. "I show the photos on an interactive whiteboard, and teachers come up and drag them around." Or, if your students have tablets or laptops, share photo files instead of prints; students can manipulate them onscreen in a digital journal.
Though this lesson is designed for the Oil Spills unit, it's easy to adapt for other EiE units. Try it in your classroom . . . and let us know how it goes!
Do YOU have an EiE Teaching Tip? Let us know. If we use your tip on the blog, we'll say thanks by sending you the EiE Teacher Guide of your choice.
Engineering is Elementary is a project of the National Center for Technological Literacy at the Museum of Science, Boston.-