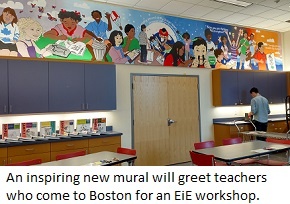 If you attend an Engineering is Elementary professional development workshop at the Museum of Science, Boston, you'll spend time in our official "EiE Classroom." The view up the Charles River is spectacular . . . but the classroom itself was a little bland.
No longer. This past winter, EiE commissioned young artist Laura Eckes to create a mural that captures the essence of EiE. The nearly 30-foot-long mural, which shows all 20 EiE storybook characters working collaboratively on engineering design challenges, was unveiled in July.
Bringing Scenes to Life by Thinking Like a Kid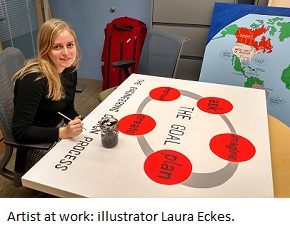 Eckes is a recent Syracuse University graduate with a portfolio that includes playful, brightly colored illustrations for greeting cards and short stories. She also has a life experience that made her the perfect choice for our assignment: unlike most American schoolchildren of her generation, she studied engineering in middle school.
Eckes says, she drew on those memories for inspiration. "I tried to bring the characters to life in a way that I, as a kid, would have found engaging," she says. "The children in the storybooks face big problems, like saving the animals in the Ganges River from pollution, and they aren't afraid to try their hand at fixing them. That would have really appealed to me as a kid!"
Laura read all 20 storybooks (more than 800 pages of text), then talked to our professional development and curriculum teams to get their ideas. "I really got a feel for what everyone loved about the curriculum," she says. "The struggle I faced was how to take characters that already exist—that were created by another artist—and express them in my own personal way. But from the moment I started, I could tell everyone trusted me with this significant project and respected my judgement." Eckes says that trust made it easy to find the balance between established characters and a piece of art that was her own vision.
Many Hands Make a Huge Mural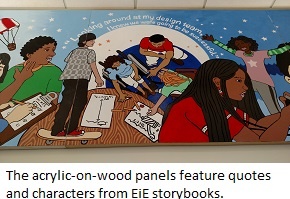 As the work proceeded, Eckes choose quotes from the storybooks to include in the scenes, and even organized a day when EiE staff helped with painting the acrylic-on-wood panels, "paint-by-numbers" style. The whole process took about five months.
"Creating a large-scale mural was definitely on my 'artist's bucket list,'" Eckes says. "It was amazing to fulfill that dream, and fun to be working on something that everyone could take joy in."
Last month, the mural was installed—and now the view inside the classroom is as spectacular as the view outside.
Engineering is Elementary is a project of the National Center for Technological Literacy® at the Museum of Science, Boston.