November is a busy month for anyone who cares about STEM education in Massachusetts!

On Friday, Nov. 6, the Massachusetts Association of Science Teachers holds its annual conference in Boxborough, MA. EiE will be there; you're invited to join professional development provider Nicole O'Neil at 8am on Nov. 6th for a session titled "Uniting Engineering and Science: Engineering Design Challenges that Inspire Inquiry." She'll take you through an EiE activity where you design a model maglev train.
MA STEM Summit Focuses on "What Works"
Following close on the heels of this event is the annual Massachusetts STEM Summit on Tues., Nov. 10 at the DCU Center in Worcester MA; MA governor Charlie Baker is among the speakers. In contrast to the MAST conference, which targets K -12 teachers and administrators, the STEM Summit spreads a wider net, with sessions not just for educators, but also business leaders, policymakers, parents, and students.
In the past, MA STEM Summits have focused on defining STEM and making the case for its critical importance. Now that the term STEM is more widely understood and accepted, the conference has shifted focus to presenting successful models, tools, and curricula for improving STEM education in the state. The Summit is hosted by the Massachusetts Business Roundtable, the Massachusetts STEM Advisory Council, and the UMass Donahue Institute with additional support from a broad array of public and private organizations concerned with the economic vitality of the state.
Now's Your Chance to Comment on MA STE Standards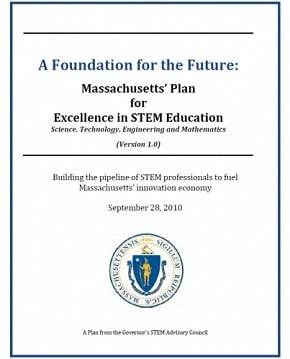 A few years back, at the 2010 Massachusetts STEM Summit, the Governor's STEM Advisory Council unveiled the Commonwealth's first Statewide STEM Plan. STEM Plan 3.0 is scheduled to be released at the 2016 summit.
Meanwhile, the revised Massachusetts Science and Technology/Engineering (STE) standards have just become available for public review! Your feedback is invited before Nov. 20th. Click HERE to review and comment on the standards.
Can't Attend a Conference? We Bring Resources to You
If you can't get away from your classroom to attend either of these conferences, we have a variety of EiE materials that will be of particular interest to MA educators.
One item may be especially useful: If you're already using EiE in your classroom, and you're charged with showing how it helps you to meet the current state standards, we have an EiE standards alignment guide for Massachusetts. This guide also includes recommendations for which EiE units best fit with the science topics taught in different elementary grades.
Our MA Resources page also include a collection of news items showing how EiE is being used in Massachusetts schools.
Not a Massachusetts teacher? Bookmark our EiE Events page to keep up-to-date with other conferences we'll be attending.
Want to get more info like this every week? Subscribe to the EiE Blog.
Engineering is Elementary is a project of the National Center for Technological Literacy® at the Museum of Science, Boston.