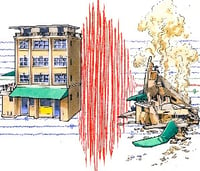 This engineering teacher tip is for educators who use Engineering Adventures, our curriculum for learners in grades 3-5 in out-of-school settings like afterschool and camp—specifically the unit Shake Things Up: Engineering Earthquake-Resistant Buildings. This unit introduces kids to the devastating earthquake that hit Haiti in 2010; the challenge is to engineer a model building that can withstand a quake.
Shake It Up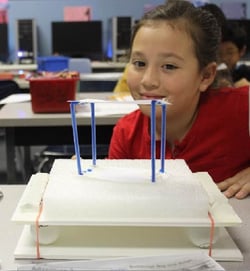 Here's what a fully assembled shake table looks like.
To simulate a quake in the classroom, you need to create a simple testing device called a "shake table." Your educator guide and engineering journal give detailed instructions for making one, using . . .
self-adhesive foam,
two notebook-sized foam core boards,
2 clear plastic tubes,
hex nuts, and
common office supplies like tape and rubber bands.
Easy Substitutions
If you don't have all the materials listed in the guide, you can easily substitute other materials to make a realistic shake table.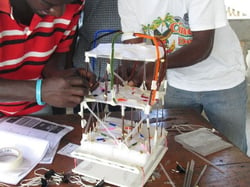 Teachers at an EiE workshop get ready to test their model building.
Self-adhesive foam: When the table is fully assembled, the self-adhesive foam attaches to the top board, representing the soil surface underneath your model building.
An inexpensive substitute is florist's foam.
Alternately, use a flat baking pan filled with garden soil. (This adds an extra dash of realism to the activity!)
Clear plastic tubes: In our model shake table, the tubes serve as rollers—you place them between the two foam-core boards. No fancy tubes? You can substitute . . .
a couple of old magic markers,
a pair of wooden dowels, or
a couple of small balls. (Anything that rolls will work.)
Foam core boards: Textbooks are a good stand-in for the boards—and since they're heavier than foam, you don't need to use the hex nuts to add weight.
Bonus Challenge
Note that if you use balls as rollers for your shake table, it will perform differently than a table that uses cylindrical rollers. So here's a bonus activity: Challenge your kids to research the unique ways that earthquakes move the ground, then construct different shake tables to model those motions.
We hope you'll experiment with other materials you may already have in your classroom. Let us know what happens!