"Full STEM Ahead!" That's the title of a recent Afterschool Alliance report on how afterschool programs can support in-school STEM learning. One organization that has fully embraced the rallying cry is Vermont Afterschool. Last year, the statewide organization landed a $120,000 grant from the Noyce Foundation for "afterschool and STEM system-building strategies." A key component, says Tracy Truzansky, Vermont Afterschool's project manager for training/STEM initiatives, is encouraging wider use of the EiE afterschool curricula Engineering Adventures and Engineering Everywhere.
Vermont Afterschool is a private–public partnership that works with programs around the state—everything from 21st Century Community Learning Centers in schools to town recreation programs licensed for afterschool care to local chapters of national organizations like the YMCA. With STEM jobs projected to grow significantly in the state, Vermont Afterschool wants to help programs amplify school-based STEM instruction as effectively as possible.
"We know afterschool providers can support kids in STEM," Truzansky says. "But for it to work well, teachers and afterschool educators need to think beyond simply complementing each other. We truly need to be in the same mindset and speak the same language—particularly for engineering."
Assessing the Need for STEM Ed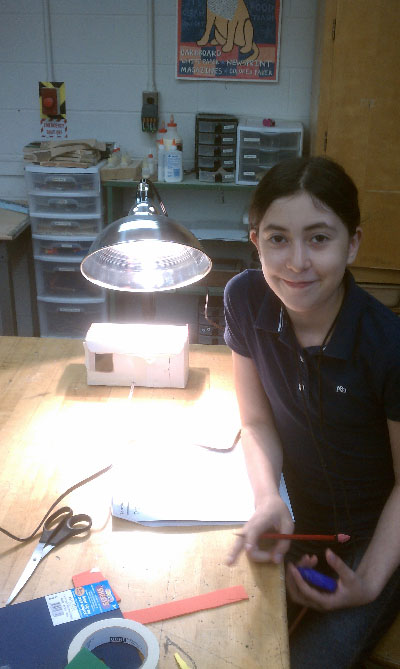 Exploring how to insulate a house is one real-world activity from Engineering Everywhere.
With the support from Noyce, Truzansky and her colleagues did a statewide survey of afterschool programs. "We asked, 'How much training in STEM instruction does your staff receive? What STEM training do you perceive needing?'" she says. "We also wanted to know, 'What stage are you at in implementing STEM programs: Exploratory? Foundational? Looking to improve?'"
The team is still poring over the data, but one early outcome is a decision to encourage educators to more fully use Engineering Adventures (for grades 3–5) and Engineering Everywhere (for grades 6–8). "I don't want program staff to Google six activities, string them together, and call it a STEM program," Truzansky says. "I wanted an engineering curriculum that was well outlined, accessible to afterschool, and complemented school-day instruction. The EiE afterschool curricula meet that need. They let me say to afterschool providers, 'Here is what I mean by a quality program, already prepared for you, well designed, tested . . . it's got it all.'"
Accessible to All
Truzansky sees another big plus to the EiE afterschool curricula: they call for inexpensive materials, and lesson plans are available as free downloads, thanks to the generosity of project sponsors (including the S.D. Bechtel Foundation, NASA, and The Gordon Foundation for Engineering Adventures and i2Camp for Engineering Everywhere). "It does come down to dollars and cents for so many programs," she says. "Many are operating on a shoestring."
Workshops That Minimize the Fear Factor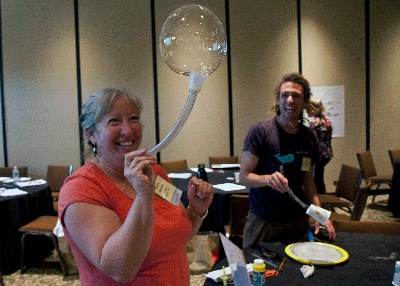 Vermont educators designed bubble blowers at one Engineering Adventures workshop.
Vermont Afterschool already offers two kinds of professional development workshops for educators who want to implement Engineering Adventures. "Our 'Getting Started' workshop is at the exploratory level, for programs that have not even considered engineering before," Truzansky says. "Honestly, the idea is to minimize the fear factor. Then, once educators choose an EA unit they are really interested in, we unpack it with them, in a more focused workshop that includes some of the content elements."
This summer, in addition to hosting "Getting Started" workshops, Truzansky's team will develop more professional development offerings for the 2016–2017 school year and an outreach strategy. "We're not going to just wait for someone to call and request Engineering Adventures or Engineering Everywhere," she says. "We're going to make sure people know it is available through Vermont Afterschool."
Are you doing something innovative with EiE? Share your story!
Engineering is Elementary is a project of the National Center for Technological Literacy® at the Museum of Science, Boston.