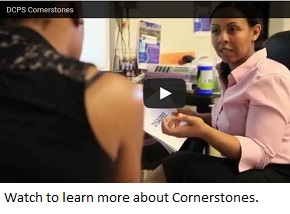 The District of Columbia Public Schools (DCPS) has announced an ambitious new plan to enhance educational equity with "Cornerstone Assignments," rigorous, engaging learning experiences for each grade (K – 12) that will be implemented district wide this coming fall. The overall goal is to offer students in the same grade across the district the same learning opportunities.
We're thrilled to share that under the Cornerstone plan, six EiE units have been selected for implementation (one unit for each elementary grade, K – 5). This means that by the end of the 2016 school year, all 22,000 students at all 75 of the district's elementary schools will have experience with hands-on engineering.
"The Next Generation Science Standards, which our district has adopted, put new emphasis on engineering, and the EiE curriculum is great for engaging students in the engineering design process," says DCPS elementary science specialist Jessica Buono. "Now they'll have that rich experience at least once a year. And EiE's professional development workshops help our teachers understand what engineering looks like in the elementary classroom."
Training the Trainers
Our professional development team conducted a workshop last week for a group of DC educators; they'll go on to lead their own workshops, preparing other K - 5 teachers in the district to implement the curriculum.
This "train the trainer" model of professional development builds on pilot implementations in the district, starting in 2010, that were made possible by support from Raytheon as part of a $2 million award to the Museum of Science, Boston to jumpstart use of EiE in high-needs districts nationwide.
"Our prior experience with the curriculum made it an easy decision to include the curriculum in Cornerstones," says James Rountree, director of science for DCPS. Support for the $500K Cornerstones initiative comes from a mix of public and private funding.
Supporting STEM Learning, and Literacy Too
The units to be implemented under the Cornerstone plan include the following: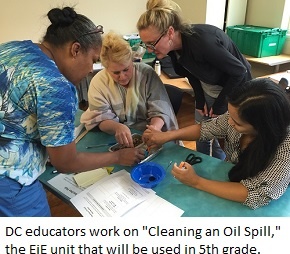 Buono notes that in addition to supporting STEM learning, these units mesh well with DCPS goals for literacy education. "We were able to pick units that are aligned with the literacy units that we teach, and their themes," she says. "Students and teachers can dive deep into both the fictional EiE storybooks and nonfiction text. It makes the literacy units even richer—while it provides a context for the science instruction.
Engineering is Elementary is a project of the National Center for Technological Literacy® at the Museum of Science, Boston.