Engineering is Elementary's engineering design process (ASK-IMAGINE-PLAN-CREATE-IMPROVE) guides young children through hands-on problem solving. Now we're using the same process to help solve a critical problem in America today: the need for engineering instruction in K – 12 classrooms
A Museum of Science, Boston team that includes three EiE staff members is one of 12 groups selected for the first annual 100Kin10 Fellowship Program. The initiative aims to create a community of problem-solvers who will find new ways to bring engineering education to more elementary, middle, and high schools across the country.
The Museum team includes (l to r in photo above) Martha Davis, senior multimedia developer; Cathy Lachapelle, research program manager; Patti Curtis, director of the Museum's Washington, DC office, and Kate Sokol, curriculum developer. "Many STEM nonprofits focus on science or math," says Curtis. "For this new fellowship program to focus on engineering education as an area of concern is unusual and laudable."
Learning, Then Problem-Solving
100Kin10 is a national network that supports STEM education, in particular through an effort to bring 100,000 new teachers into schools by 2021. The nonprofit selected a total of 12 teams from among its partner organizations to receive the first fellowship awards, in a competitive process.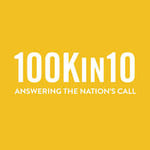 "We were impressed by the Museum's unique approach to tackling this particularly sticky challenge area," said 100Kin10 Executive Director Talia Milgrom-Elcott. "We are excited to collaborate with all the participants as we pioneer this new approach to grant making and develop innovative, effective, transformational, and sustainable solutions."
In contrast to traditional grant programs, the 100Kin10 Fellowship puts learning at the forefront. As participants develop their proposals for new engineering education initiatives, they're supported through hands-on learning opportunities, technical assistance, in-person and virtual resource sharing, peer and expert critiques, and other feedback.
Outreach Campaign Will Show "What Precollege Engineering Looks Like"
This past July, our group joined the other teams for a kick-off meeting in New York City. Activities focused on the "ASK" and "IMAGINE" steps of the engineering design process: first, identifying a problem, then brainstorming possible solutions. Through this process, our team chose to address this problem: Even though schools are increasingly being asked to integrate engineering with K – 12 science instruction, teachers, administrators, and parents often have no idea what engineering would look like in a precollege classroom.
Now our team is back in Boston and working on the "PLAN" step. They're mapping out an awareness campaign--one designed to have national reach. In late September, the teams will reconvene in New York for a community critique, where they'll receive and share feedback.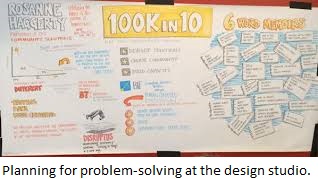 Finally, in October 2015, each team will make a formal proposal. 100Kin10 expects to make one-time awards ranging from $25,000 (for early-stage ideas) to $500,000 (for more fully formed plans).
The $8 million in initial funding for the Fellowship Program is made possible by a grant from the Office of the Attorney General of the State of New York pursuant to a settlement with the Pearson Foundation, along with a generous contribution from the Simons Foundation.
The 11 other partners from across the nation selected to participate include
Baltimore City Public Schools
Bank Street College of Education
Bay Area Discovery Museum
Boston University, College of Engineering
Hillsborough County Public Schools
National Academy of Sciences
National Center for Technological Literacy at the Museum of Science, Boston
NYU Polytechnic School of Engineering
Teach for America • New York Office
TRC at University of Texas, Austin
Tufts Center for Engineering Education and Outreach
Washington STEM
Watch this space for more details as we move from ASK-IMAGINE-PLAN to CREATE and IMPROVE!
Engineering is Elementary is a project of the National Center for Technological Literacy® at the Museum of Science, Boston.