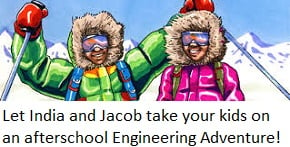 Are you an afterschool educator? Thinking about the coming school year and planning afterschool activities for elementary students? We've got a suggestion: take your kids on an engineering adventure!
Engineering Adventures are hands-on engineering units designed expressly for kids in grades 3 – 5 in out-of-school time settings. India and Jacob, a globetrotting brother-and-sister team, guide your kids through the engineering design process to solve real world problems. Each unit consists of 6 - 8 adventures.
It's easier than ever to add Engineering Adventures to your mix of programming. Convenient and cost-effective materials kits are now available for all seven Engineering Adventures units. Each kit includes enough supplies for up 24 kids.
NEW! Aeroautical Engineering Materials Kit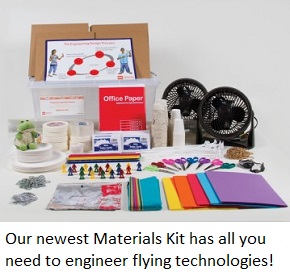 The newest addition to our collection of Materials Kits is for the unit "The Sky's the Limit: Engineering Flying Technologies." Your kids will design, test, and improve their own flying technologies, including "drop copters" and flying disks.
Just like our classroom curriculum Engineering is Elementary (EiE), Engineering Adventures units use materials that you might already have in your supply closet, like rulers, scissors, index cards, and construction paper.
But we know that sometimes it's just more convenient to open a box and have everything you need at your fingertips, ready to go. So check out the materials kits for "The Sky's the Limit" . . . and for all seven EA units. The links provided here take you to the landing page for each unit.
Just scroll down to see a picture of the kit, or click on "Download Materials List" for details on exactly what comes in each kit. Each list has separate sections for reusable and consumable materials.
Free Resources to Support Afterschool Engineering
While you're exploring the unit, scroll down a bit more to see a variety of free resources that supplement the Educator Guide, including an interactive iPhone app and an Educator Resources List with links to articles, books, videos, and interactive websites that support the theme of the unit. Just look for this screen: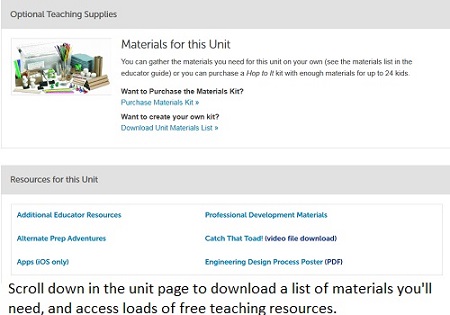 Got questions? Check our FAQs page for answers, or send a note to engineeringadventures@mos.org. We're happy to help you get outfitted for some Engineering Adventures with India and Jacob.
Engineering is Elementary is a project of the National Center for Technological Literacy® at the Museum of Science, Boston.