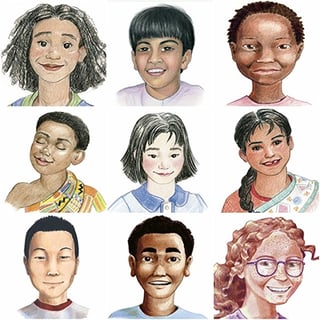 EiE storybook characters are diverse by design. There are 20 different protagonists, all from different backgrounds, races, family situations, and abilities, and it's for one good reason: students feel inspired when they read stories about someone they can identify with.
This intentional diversity was a plus for Claudine Conover, a PreK-5 science teacher at a small school in the Bronx, as she searched for STEM lessons that would resonate with her students.
Good Role Models Are Hard to Find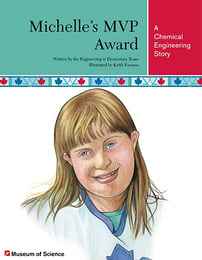 "Our school has one self-contained class for students with special needs, and it can be very difficult to find books with characters who are role models," Claudine says. "For example, I had a student who was hearing impaired and proficient in sign language, English, and Spanish. In all the years I worked with her, I could only find two books with characters she could relate to."
Last year, the students in Claudine's class included four girls and eight boys with Down syndrome. "It's extremely uncommon to find books about children with this cognitive disability," Claudine says. But when she started looking for new resources, she found one. The EiE unit A Work in Process: Improving a Play Dough Process starts with the storybook Michelle's MVP Award.
A Girl Who Looks Like Me
Michelle is Canadian. She plays on a hockey team. She's got a talent for making ornaments out of play dough. And she has Down syndrome.
As the story begins, Michelle and her teammates have a chance to see the Toronto Maple Leafs play a pro game . . . but they need an awesome idea for a fundraiser to buy the tickets. Michelle saves the day when she shows her teammates how to use the engineering design process to make play dough creations that everyone at school wants to buy.
"When I read the book, the kids immediately made the connection that Michelle was just like them," Claudine says. "I enlarged the illustrations so everyone could see them, and the kids were saying, 'Like me, like me!' It was also nice that the protagonist was a girl."
Something Familiar, Something Foreign
Though the kids identified with Michelle, the book did hold some mysteries for them: many were originally from the Caribbean and knew nothing about hockey! "It was completely foreign," Claudine says. So I took that as an educational opportunity. I brought in a hockey jersey, I showed some video clips of hockey being played, and we talked about how the game worked. I even tried to get them to go skating!"
We Can Sell Play Dough, Just Like the Story
Michelle's story inspired Claudine's students to try selling their own play dough. "They made up little bags," Claudine says, "and the other fifth-grade teacher on the hall let my kids visit their classroom. Each of my students got a chance to explain why their play dough was the best: the softest, the prettiest color, the most improved. The other kids were cheering them on. They sold the bags for a dollar each."
Although Claudine never was able to coax her students out onto a skating rink, this story does have a frosty ending. "Later," she says, "we used the money that the students raised to go and buy ice cream!"
Engineering is Elementary is a project of the National Center for Technological Literacy® at the Museum of Science, Boston.