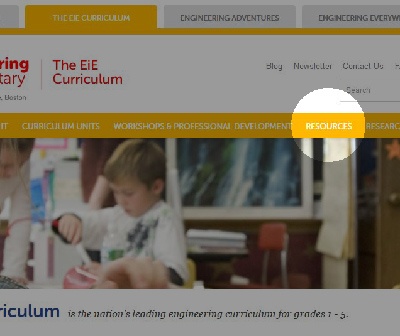 Your EiE Teacher Guide offers more than just lesson plans; it has teaching tips, assessment, and other useful extras. Did you know the EiE website is also packed with handy resources that help you teach elementary engineering? With our latest web redesign, these helpful teaching tools are more find-able than ever! Just click the "EiE Resources" tab and let us take you on a tour . . .
The EiE "Resources for Educators" page offers six different kinds of resources. They can help you prepare to teach engineering, have a rich classroom experience, or assess the impact of your teaching. Here's what each collection offers:
The EiE Video Library is a comprehensive compilation of more than 200 short videos. Use them like "professional development on demand," to see what elementary engineering looks like in real classrooms, understand NGSS practices, or prepare for whatever EiE lesson you're about to teach.
Content Area Connections is a category that includes hundreds of extension lessons you can use to integrate engineering with other academic subjects, from math and reading to social studies and science. Also check out our EiE "Resources Lists," which give you carefully selected online articles, interactives, and videos to enrich connections to science and literacy learning and help your students explore a field of engineering in depth.
Connections to Standards is a tab that takes you to EiE's comprehensive collection of alignment guides. These guides make it quick and convenient to learn how EiE connects to state and national science standards. You can also see how EiE connects to the most popular elementary science curricula.
Assessment Tools are useful tools to help you gauge how your students are meeting the learning objectives in each unit. All of our EiE assessment tools are research tested.
Storybook Illustrations make it convenient to show the pictures from the EiE storybooks to the whole class using your whiteboard or projector. You'll find downloadable PDFs of every illustration in every EiE storybook!
Other Resources: If you're looking for some new prep lessons, the Engineering Design Process poster, or our "Technology Flashcards" iOS app, this tab is where to find them.
We hope these EiE resources make your experience teaching K-5 engineering even more engaging and rewarding!
Engineering is Elementary is a project of the National Center for Technological Literacy® at the Museum of Science, Boston.