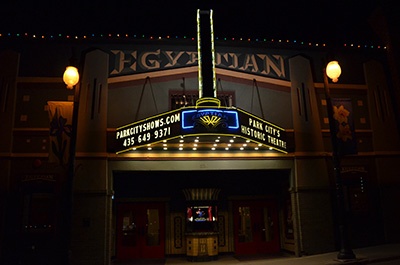 When we wrote the storybook Omar's Time to Shine, the story of a boy named Omar in Egypt who designs a lighting system for his school play, we never could have imagined that it would find its way into the hands of a volunteer who leads STEAM activities in Park City, Utah's historic Egyptian Theatre. You might call that kind of alignment "serendipitous." Wendi Laurence certainly does! When Wendi attended an EiE Teacher Educator Institute and found the Lighten Up unit, she immediately knew that it would be a blockbuster success in the Egyptian Theatre's YouTheatre STEAM program. Of course, the story begins a little earlier than that—with an idea and a napkin!
The Opening Act
Five years ago, Wendi Laurence met the director of education at the Egyptian Theatre's YouTheatre program, Jamie Wilcox. She was inspired by the work Jamie was doing with youth in the community and decided to volunteer and later join the board at the theater. As the STEAM Teacher Coordinator at Meadowlark Elementary School in Salt Lake City, Wendi has always been passionate about STEAM education. She wondered how she could incorporate STEAM into YouTheatre's programs, so three years ago, she and Jamie began to brainstorm. "It came from where all good engineering comes from," Wendi says. "We wrote it on the back of a napkin!"
Putting the "A" in STEAM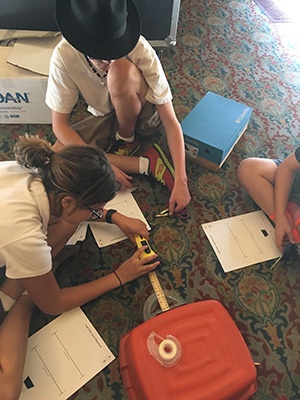 They began with a "space camp"—space is a subject that former NASA educator Wendi is passionate about—and they immediately got requests for more. Last year, Wendi attended a Teacher Educator Institute in Boston to support EiE implementation at Meadowlark. When she saw Lighten Up, an optical engineering unit based on illuminating hieroglyphs in a model Egyptian tomb, she immediately noticed connections to the Egyptian Theatre and the programs she had been developing.
"I couldn't have asked for a better unit," she says. "It was beautifully aligned, and kids loved the story." Wendi designed a three-week "tech crew" workshop around the unit, making modifications to fit the needs of her group. For instance, she had her kids design a storyboard to plot out the story, and they decorated their own hieroglyphs to line their model tombs. "They were crawling on their hands and knees behind the theater curtain to see the light set-up," she says. "They really 'got' the lighting concepts."
Making Connections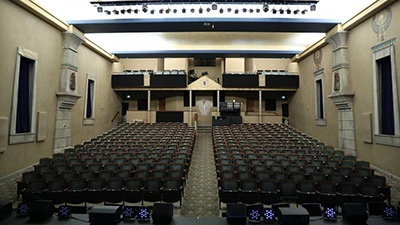 The connections to the theater were everywhere: while a group was going through the unit, a painter happened to be adding new hieroglyphs to the wall of the theater. Wendi was elated to see the kids exploring what the light looked like as it hit the paint. And because the theater was prepping for a play, the students were able to seeing the lighting design process in action. "They sat in the front row and they could check exactly where the lights were being set up," she says. "They could see what lights went where, and now they knew why." After the program, some kids were able to use their newfound lighting knowledge to work on a lighting system for a YouTheatre play!
Connecting STEM and the theater might not seem obvious, but to Wendi and Jamie, it made perfect sense. "It's allowed [kids] to see that engineering is in more places than they might think," Wendi says, adding that "the reaction from parents and kids has been phenomenal." If you've been thinking about creating STEAM programs, Wendi's advice for you is simple: "Be willing to take risks, and trust kids to go along with it." We think that's a bright idea!