Recently on this blog we introduced a college professor who uses EiE curriculum units as textbooks for preservice teachers. Today, meet a faculty member who's innovating with EiE in a different way: her students get experience teaching engineering activities in a local afterschool program.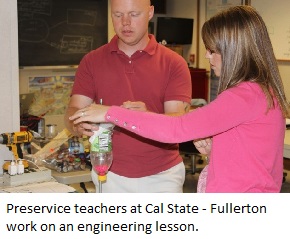 Kim Case is a lecturer at California State University – Fullerton whose students do their observations and student teaching at Rio Vista and Melrose elementary schools in Placentia - Yorba Linda Unified School District; both schools have significant numbers of English language learners and students from low-income households. The story begins with Case's students creating practice lessons for elementary students at the two schools.
"I have them ask the teacher, "Where you are at in the curriculum? What science standards do you need to meet?" Case says. "Then they identify EiE units that help meet those standards, and tailor an EiE lesson to support the teacher's goals."
In-School Experience Was Not Enough
The cooperating teachers were pleased with the outcomes, but Case noticed her students still didn't seem very comfortable teaching engineering and science. "They have lots of experience, but they lack confidence," she says. "I thought, we need another way to build their skills and confidence."
An unexpected string of events led to the afterschool connection. "One of my students was in a classroom during a show-and-tell activity, and a little girl shared a picture of a Christmas tree," Case says. "My student learned it wasn't a picture of a real tree; the picture itself WAS the Christmas tree." The girl's family was homeless—as were many others at the school.
Meanwhile, Case learned the local high school was having a Christmas tree sale. She worked out an arrangement where trees could be donated to families in need. The sale was a success—and at the event, Case connected with Rob Casaba, a district employee working with afterschool programs at five Title 1 schools . . . including those where Case's students were teaching.
Doing Engineering, Just for the Fun of It
"We just started talking," Case says. "'Wouldn't it be great if we could place student teachers in an afterschool setting, where you're just doing science and engineering for the fun of it?'"
So with permission from the district, Casaba hired ten of Case's students to work in pairs at the five schools, one day a week for ten weeks, facilitating activities from one of EiE's Engineering Adventures afterschool units.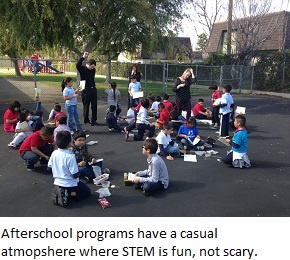 The results have been overwhelmingly positive. "The informal experience has helped their confidence skyrocket!" Case says. "My students were pleased to be paid for their work, but every one said they would have volunteered if they had known what the result would be—that the experience changed who they are as a teacher."
Afterschool Success Leads to a Research Study
With such positive outcomes, Case decided to quantify "what works." The program will continue next year with a new component: she'll be conducting systematic research, surveying the teacher candidates, their afterschool students, and the students' parents.
"Besides looking at the impacts on our student teachers, we're taking a long-term approach at the school, looking at graduation rates and college/career readiness," Case says. "Currently the number of students from Rio Vista and Melrose who graduate from high school and go to college is significantly different from the rest of the schools in the district: approximately 30 percent versus 90 percent."
Says Case, "We want to change that—and we think hands-on afterschool engineering can help."
Engineering is Elementary is a project of the National Center for Technological Literacy at the Museum of Science, Boston.