Each Thursday on the EiE blog, we answer your questions or offer handy teacher tips.
Q: I want my middle schoolers to do some engineering. Will the Engineering is Elementary curriculum work for me?
A: The short answer is, "Possibly!"
Even though EiE's design is based on research on what "works" for STEM education for grades 1–5, we often hear from teachers who are using EiE units in their middle school classrooms with great success . . . not to mention kindergarten and high school!
The Most Middle School-Friendly Units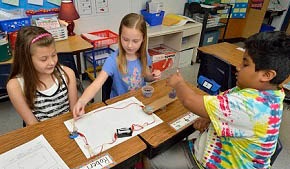 "An Alarming Idea: Designing Alarm Circuits" is one unit that works well for grades 6-8.
To see which EiE units might work well in your middle school classroom, consult this guide. You'll see we've divided the 20 EiE units into two categories: "Basic" (optimal for grades 1–2) and "Advanced" (optimal for grades 3–5). Advanced units will likely be the most appropriate for use with middle schoolers, although every EiE Teacher Guide includes modifications for older or younger students.
EiE intentionally includes design elements that are optimal for elementary students. For example, storybooks are used to set a context for the engineering activities because elementary students respond well to this approach. And the engineering topics covered in EiE lessons have been chosen to integrate with the science topics most often taught in elementary school. Still, if an EiE unit complements the science topic you're teaching, the curriculum may work for your students, especially with some modifications.
Make Your Own Modifications
Here are some simple ways to modify EiE for grades 6–8.
Supplement storybooks with additional reading materials such as an age-appropriate novel, magazine or newspaper articles, or a nonfiction science book
Engage your students in doing the research! Ask them to find news articles that relate to the topic of the unit
Adjust the student reflection questions provided in your teacher guide to make them appropriate for your students' grade level
Adjust the data collection/analysis steps in Lesson 3 so they align with grade-level math and science standards
Challenge your students to think about what data they need to collect rather than just giving them this information
Add additional criteria and constraints. Can students build a bridge that holds more weight? Can they build it at a lower cost?
Have students give a formal presentation at the conclusion of their work (as engineers do for clients) detailing the strengths (and weaknesses) of their design
We've heard other creative ideas. For example, one middle school teacher told us her students used the storybook as the basis for a play that they presented to the class.
If you've used EiE activities with your middle school class, tell us about it!
Engineering is Elementary is a project of the National Center for Technological Literacy® at the Museum of Science, Boston.