In the hit movie The Martian, Matt Damon plays NASA scientist Mark Watney, who gets marooned on Mars. The situation is dire, but Watney shows grit (plus extreme science and engineering skills) as he jury-rigs devices to make oxygen and water, repair his shelter, and communicate with the folks back on Earth. Who knew that problem-solving and the engineering design process could make for a thrilling Hollywood spectacle?
The film will surely spark student interest in NASA, space science, and aerospace engineering. But the space agency isn't counting on blockbusters alone to engage kids. This past fall, its Science Mission Directorate made awards to 27 institutions for new initiatives to engage learners with NASA science.
Space-Themed Engineering Activities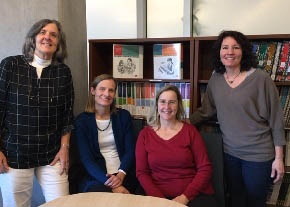 At the PLANETS launch meeting at NAU in Jan. 2016 From left to right: Martha Davis, Christine Cunningham, Joëlle Clark, Lori Rubino-Hare
One is a $3.4 million grant to Northern Arizona University's Center for Science Teaching and Learning (CSTL) to create space-themed educational resources for out-of-school time programs. We're thrilled to share that EiE is part of this initiative, which is called PLANETS (Planetary Learning that Advances the Nexus of Engineering, Technology, and Science).

Over the next five years, through a $1.3 million sub-award to EiE's home institution (the Museum of Science, Boston), our curriculum developers will help to create and disseminate three new afterschool curriculum units and conduct research to evaluate curriculum effectiveness. The project will also create professional development workshops for afterschool educators.
Building on the EiE-NAU Connection
The new initiative builds on a longstanding connection between NAU-CSTL and EiE. PLANETS principal investigator Joëlle Clark, the associate director for professional development programs at CSTL, was one of the very first members of EiE's national network of professional development providers. Over the past five years, Clark and her colleague Lori Rubino-Hare have facilitated numerous EiE workshops across the country.
"This is an amazing opportunity to continue to grow CSTL's professional development programs and our relationship with national researchers and curriculum developers like EiE," says Clark, noting that the PLANETS partnership can serve as a model for future initiatives. The U.S. Geological Survey (USGS) Astrogeology Science Center is also a project collaborator, providing planetary science content expertise.
The PLANETS project builds on an earlier NASA-themed initiative here at EiE. In 2011, with $320,000 in support from NASA's Space Technology Mission Directorate, we developed two NASA-themed modules for Engineering Adventures, our elementary afterschool curriculum. "Liftoff" engages kids in designing model rockets and rovers to explore other worlds, and "The Sky's the Limit" focuses on flying technologies used to study Earth. Both modules are available online free of charge. Collectively, they've already reached an estimated 5,000 teachers and 74,000 kids.
3 . . . 2 . . . 1 . . . Liftoff!
The PLANETS project held its launch meeting last week in Flagstaff; Christine Cunningham, EiE's director, and Martha Davis, EiE's director of curriculum development, were there. Now our team is digging into the work of designing new activities that will inspire the next generation of explorers in the STEM fields. There's a lot riding on this mission—luckily, unlike the Martian, we don't have to worry about where our air and water are coming from.

Engineering is Elementary is a project of the National Center for Technological Literacy® at the Museum of Science, Boston.