Each Thursday on the EiE Blog we offer helpful teaching tips or answer your questions about classroom and materials management.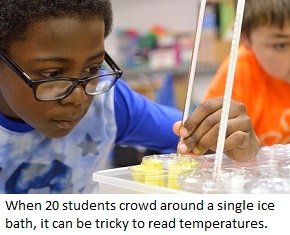 Are you planning to teach the Engineering is Elementary unit "Now You're Cooking: Designing Solar Ovens"? Here are two handy tips from EiE professional development provider Jason Brewer for Lesson 3 ("What's Hot and What's Not").
In this lesson, students compare the insulating qualities of materials such as felt, foil, plastic, or newspaper when they are flat versus shredded. Each student team places two cups—one for each sample—in an ice bath, along with a control (uninsulated) cup. Kids record sample temperatures every 30 seconds over a period of 3 minutes.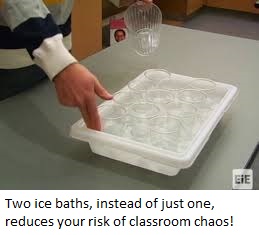 (SEE IT IN ACTION! Watch the Classroom Video for this lesson.)
"With an entire class crowded around a single ice bath, that can get pretty intense," Jason says. If you have five groups of four students each, that equals 20 kids monitoring 10 samples in an ice bath the size of a dishpan.
Try These Data-Collection Tips
Use two separate ice baths, one for each of the two samples your students will evaluate (Your teacher guide calls for a single ice bath to hold both kinds of samples)
Use digital thermometers to measure sample temperatures (rather than the conventional glass-and-mercury thermometers provided in your kit)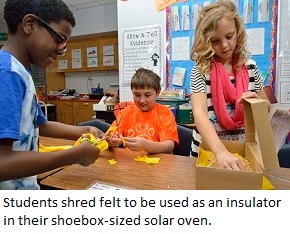 Jason sets up an ice bath for the flat materials in one corner of the classroom and an ice bath for the shredded materials in the opposite corner.
(SEE IT IN ACTION: Watch the EiE How-to Video for setting up an ice bath.)
Each team of four students divides in half, sending two students to one corner, and two to the other. Each of the students in the two-member team gets a job: one monitors the thermometer and calls out the temperature every 30 seconds; the other records the temperature.
Digital Probes Are Accurate, Easy to Read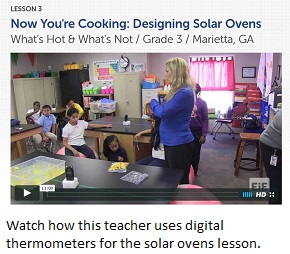 "Digital thermometers are much easier for kids to read than mercury-based thermometers," Jason says. They also display the actual temperature instantly—no waiting for the device to equilibrate.
"Of course you can still teach kids how to read a mercury thermometer; that's a good skill," he says. "But reading the temperature every thirty seconds is intense! We found we got more accurate data with the digital thermometers."
You don't need to purchase fancy thermometers from a science supply company. Inexpensive probe-type kitchen thermometers, the kind you use with your Thanksgiving turkey, work great.
One last tip: Having a second adult in the room—another teacher, an aid, or a parent—is very helpful!
Do you have an EiE Teacher Tip? Tell us about it! If we use your tip on the Blog, we'll thank you by sending you the EiE Teacher Guide of your choice.
Engineering is Elementary is a project of the National Center for Technological Literacy® at the Museum of Science, Boston.