Today's guest blogger is Hannah Schulze, EiE's research and evaluation intern.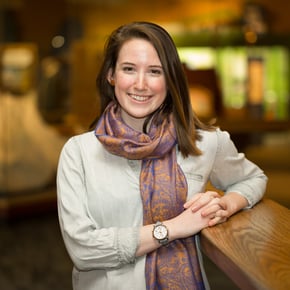 I am currently a junior studying Biomedical Engineering at Wentworth Institute of Technology, and since January, I've been working as an intern at the Museum of Science, Boston. When I began my internship search, I knew I wanted an opportunity that would allow me to combine my love for engineering and my passion for social justice work. That's why I was thrilled to see a posting for an internship through the Museum of Science for Engineering is Elementary. I was one of those kids who visited the museum and thought the whole thing was magic. Almost like Disney World—but better, because the Museum of Science wants everyone in on the magic together. Everyone has the chance to discover and explore. Engineering is Elementary, in particular, spoke to me because of my connection to its mission: fostering engineering and technological literacy among children—including those students who are traditionally underserved or underrepresented in STEM fields.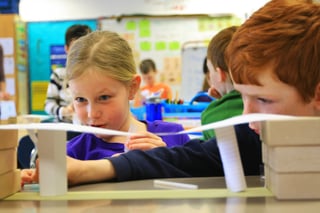 I wondered how my education would have been different if my peers and I had the chance to be engineers in elementary school. I spent most of my childhood dragging scrap materials out of the garage to build "the car of the future," creating my own processes for recipes, and designing circuits with my brother that would sound an alarm if anyone ambushed our playroom. At the time, that was just fun, but it informed my outlook and my career path. I cannot imagine the impact if that exploratory experience transferred into my school setting, and now I have a chance to help bring it to other kids. I wanted to contribute to this initiative because it empowers children to solve problems with creativity and collaboration, which is imperative for future success.
Over the course of my time as a Research and Evaluation Intern with EiE, I helped the team analyze all kinds of classroom data to inform the development of EiE and share with the greater STEM community. I also found myself in preschool classrooms piloting the Wee Engineer curriculum; watching a class full of young children having a fantastic time with design challenges was just as fun for me as it was for them. Along the way, I attended an EiE professional development session to experience how teachers learn the EiE curriculum and rounded off my perspective on the curriculum. The EiE team really gave me a chance to jump into projects and initiatives across the department and embraced my willingness to participate.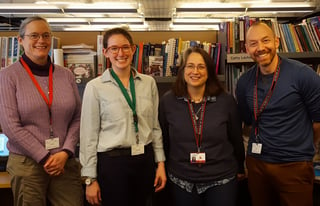 As a Museum of Science employee, I had a chance to explore the exhibit halls of this institution and others around Boston. By participating in some of the many staff initiatives, I learned a lot about how the museum works and why it's so beloved. At any given time you can walk through the museum and hear someone exclaiming "Whoa! That's so cool!" When it comes down to it, that's what it's all about—increasing STEM literacy and fostering positive memories surrounding science and technology.
I've loved my internship. The Museum of Science is committed to making sure that internships are fruitful and engaging learning experiences. I will be leaving the EiE Team in April with a well-rounded introduction to educational research and evaluation and a renewed appreciation for STEM's ability to empower.
The Museum of Science is always searching for interns. If you know a bright, Boston-based STEM enthusiast who is looking for an internship opportunity, encourage them to keep an eye on the Museum of Science's internship listings.