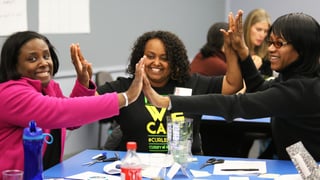 Our team is always looking for more ways to support elementary science and elementary teachers. We listen closely to teachers, and we hear them express their need for financial support to underwrite the costs of professional development and materials. So we are pleased to invest some of our project funds in a new round of professional development scholarships . . . and today we're delighted to announce the names of 49 elementary teachers from 21 states who will receive awards!
Each scholarship includes tuition to attend a two-day EiE workshop at the Museum of Science, Boston. Teachers will also receive a complete set of classroom materials: EiE Teacher Guide, a class set of storybooks, and a Materials Kit.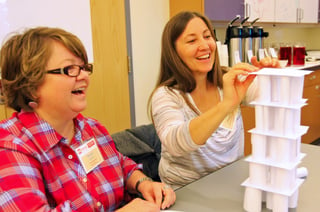 Applicants were asked to submit examples of STEM lessons they currently teach, share ideas for integrating engineering with other subjects, and reflect on why engineering is important for elementary students. The selection process also screened for teacher leaders who show strong potential to share what they learn through the scholarship with their colleagues. Competition was fierce, but we narrowed it down to these 49 impressive candidates.
Congratulations to our scholarship winners! We can't wait to meet you.
Amanda Barber, Reeds Elementary School, Lexington, NC
Vincent Basciano, Hillside Avenue School, Cranford, NJ
Julie Broom, Fords Prairie Elementary School, Centralia, WA
Theresa Brown, Broadneck Elementary School, Arnold MD
Loren Bucek, Starling STEAM PK-8 School, Columbus OH
Marguerite Burke, P.S. 277 Gerritsen Beach School, Brooklyn, NY
Bonnie Byerly, Reeds Elementary School, Lexington, NC
Mariajose Carnicero, Dooley Elementary School, Long Beach, CA
Joy Conway, Susie C. Altmayer Elementary School, DePere, WI
Amanda Crane, Shore Elementary Magnet School of the Arts, Tampa, FL
Donna DeBellis, Clifton Public School 11, Clifton, NJ
Scott Donnelly, Carnegie Elementary School, Carnegie, PA
Elisa Edwards, Berkwood Hedge School, Berkeley, CA
Danielle Farley, Ramtown School, Howell, NJ
Kimberly Fraser, P.S./I.S. 104 The Fort Hamilton School, Brooklyn, NY
Bob Gilmore, Woodland Elementary School, Milford, MA
Jen Gossert, Conrad Weiser East Elementary School, Wernersville, PA
Benjamin Grace, Petworth Elementary School, Washington, DC
Pamela Henning, Edwin S. Dodson Elementary School, Reno, NV
Kathleen Hutches, LEARN 6 Charter School, Great Lakes, IL
Lisa Iside, P.S. 217 Colonel David Marcus School, Brooklyn, NY
Lisa Johnson, Creekview Elementary, Price, UT
Nancy Kaneshiro, Anthony G. Bacich Elementary School, Kentfield, CA
Georgia Littleton, Booneville Elementary School, Booneville, AR
Nicholas Mack, J.J. Flynn Elementary School, Burlington, VT
Julie McGowan, Albertville Elementary School, Albertville, AL
Gaveeta Mohabir, P.S. 315, Brooklyn, NY
April Ness, Galileo Scholastic Academy of Math & Science, Chicago, IL
Stephanie Novin, Scales Elementary School, Brentwood, TN
Melanie Olson, Parkside Elementary School, Buffalo, MN
Jessica Paula, The Manville School, Boston, MA
Christine Ramirez, Kemp Mill Elementary School, Silver Spring, MD
Laura Regan, P.S. 326, Brooklyn, NY
Janice Rickey, Rachel Freeman School of Engineering, Wilmington, NC
Mabel Rivera, Innovation Academy, Oro Valley, AZ
Tonya Robbins, Reeds Elementary School, Lexington, NC
Michelle Roberts, Ballard Elementary School, Bradenton, FL
Kara Rooney, Dennett Elementary School, Plympton, MA
Penny Roy, Hartselle Intermediate School, Hartselle, AL
Meghan Spencer, The Help Group's STEM3 Academy, Valley Glen, CA
Gina Stout, Banks-Caddell Elementary School, Decatur, AL
Julia Sullivan, Holly Springs Motlow Elementary School, Campobello, SC
Kristin Sym, Ridgeway Elementary School, Severn, MD
Lori Talbot, Hillside Avenue School, Cranford, NJ
Traci Trillo, Greenfield Elementary School, Gilbert, AZ
Rosa Watson, Liberty Elementary School, Tucson, AZ
Stephanie Wilkins, Odyssey Day School, Wakefield, MA
Christy Williams, Eastwood Elementary School, Decatur, AL
Theresa Zaun, West Sedona School, Sedona, AZ
Be sure to keep an eye on our scholarships page or subscribe to our newsletter to hear about future scholarship opportunities!