The stated ambition of the STEM Task Force of the California Department of Education is the opposite of modest. Leaders want to see a future where the state "leads the word in STEM education." No wonder California was a lead state partner in the development of the Next Generation Science Standards (NGSS) and an early adopter of the standards once they were released in 2013.
Statewide implementation of the new standards is a multi-year effort; right now,

the state is moving from the "Awareness" phase, involving public education and planning, to the "Transition" Phase, which includes (among other steps) making teacher professional development on NGSS implementation more widely available. With this need in mind, the 2015 California Science Teachers Association conference (slated for October 4 – 5th in Sacramento) includes a "conference within a conference" on this theme: "Primary Pathway to Next Generation Science Standards through Language and Literacy Development." EiE director Christine Cunningham will be one of the featured presenters.
Practical Advice for Teaching Elementary Engineering
The "Primary Pathway" workshop is a 9-hour PD course that will deliver practical advice on implementing NGSS in the classroom. The target audience is teachers and administrators in the early primary grades—kindergarten through second grade.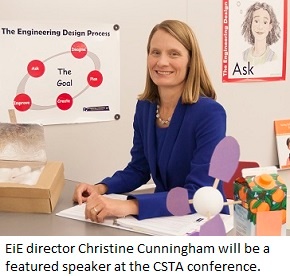 "I'll be facilitating some hands-on activities that are designed to help educators understand elementary engineering from the perspective of both teacher and student," Christine says. "You'll come away with a clear understanding of how to meet the performance expectations laid out in Next Gen." Educator teams (groups of 3 – 5 teachers and administrators from a single district or school) are encouraged to apply. A limited number of seats are available, so apply now!
Christine is also a CSTA conference "Focus Speaker." On Saturday, October 3 at 4:30 p.m., she'll present EiE research findings in a talk titled "Why All Kids Should Study Engineering—Even Before They Can Spell It."
Peek Inside Elementary Engineering Classrooms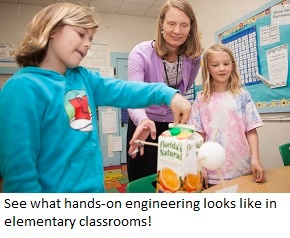 One highlight will be a collection of candid short videos, shot in elementary classrooms around the country, that you could call "STEM moments of Zen." These clips capture students at breakthrough moments, as they're developing new understandings, making connections, and exhibiting the 21st century skills of collaboration, creativity, and effective communication that elementary engineering helps to develop.
If you'd like to attend the conference but could use some financial support, it may be helpful to know that the recently enacted 2015-2016 CA state budget earmarks significant funding for teacher professional development—and in particular, PD that helps teachers implement NGSS. The CSTA conference website has details on how to navigate the opportunities that your district may offer under its Local Control Accountability Plan (LCAP) or NCLB funds. Click for more information and registration.
More Options for Professional Development
Can't make it to the 2015 CSTA conference? The education agency WestEd has a free online webinar on how to prepare teachers for NGSS success. This webinar also features a presentation by EiE's Christine Cunningham.
Want in-person PD workshop at your school rather than a webinar? WestEd is an official member of our Expanded Network of Professional Development Providers, a national network of teacher educators qualified to offer EiE PD to local schools and districts.
It's an exciting time for STEM education in the Golden State, and we're happy to be a part of it.
EiE is a project of the National Center for Technological Literacy® at the Museum of Science, Boston.