Every Thursday on the EiE blog, we share tips or resources for classroom teachers.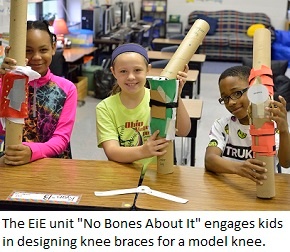 Do you teach the Engineering is Elementary unit "No Bones About It: Designing Knee Braces"? Great news: We've just added a complete set of Classroom Videos for this unit to our online EiE video library!
Whether you're new to teaching EiE, or an experienced elementary engineering teacher who wants to brush up on the unit before you teach it this semester, our online videos are a great resource. They let you what see what each lesson looks like in a real classroom.

An Illuminating Video for Each Lesson You Teach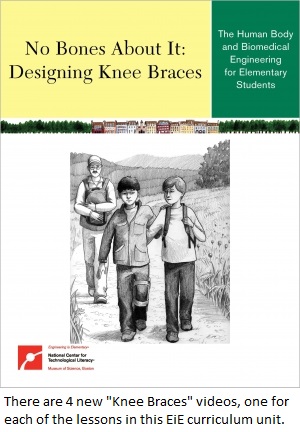 The Knee Braces unit engages kids in designing a brace that protects an injured knee . . . while still allowing it to bend normally.
The Classroom Video collection for this unit includes four separate episodes, one for each of the four lessons in a unit:
Peek Into Diverse Classrooms Across the Country
"Our videography team travels to classrooms around the country to capture candid engineering moments in all kinds of schools, whether urban or rural, large or small—and really diverse student populations," says team leader Martha Davis. So no matter what kind of school you teach in, you'll find a school similar to yours represented in the collection.
The footage for the "Knee Braces" videos was shot in Kathy Wright's fifth-grade classroom at John F. Kennedy Elementary School, which is located in Jamaica Plain and part of the Boston Public Schools system. Kennedy has 300 students and, like many big-city public schools, serves mostly minority and low-income students.
Kathy is a skillful teacher with 20 years of experience; one-third of her students have special needs, and many are English language learners. "It was especially fun for us to work in a school so close to our headquarters here in Boston," Davis notes. "But we think teachers everywhere will really enjoy these newest videos."
Videos Model Effective Questioning Strategies
When you watch the "Knee Braces" videos, you'll see Kathy modeling effective questioning strategies that push students to take charge of their own learning, help them draw inferences from the information they have, and make connections between the science and engineering content in the lessons and the students' life experiences.
Kathy also uses language that helps her students self-identify as engineers, telling them at one point, "This letter is addressed to biomedical engineers—that's you!" Many studies show girls—and children from some minority groups—are more likley to become interested in engineering when it's framed as a helping career, and "Knee Braces" does just that.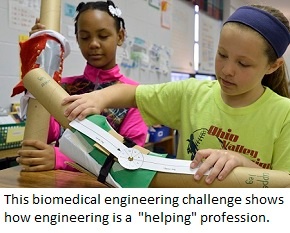 "[This engineering design challenge] had a huge impact on my girls," Kathy says. "Some girls thought engineering was only for boys; [this experience] really turned some of them around, they were saying, 'Wow! Girls can do engineering!' I think that was key for them."
By the way, every Classroom Video comes with a set of helpful reflection questions that help you explore the teaching strategies demonstrated in the videos. Check out the new Knee Braces videos and let us know what you think.
Need help with lesson prep? Browse our collection of How-to Videos for the Knee Braces unit!
Subscribe to the EiE Blog to be notified whenever new teacher resources are available.