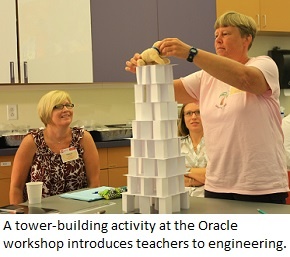 On a sunny day this past August, the Engineering is Elementary (EiE) classroom at the Museum of Science, Boston was filled with laughter as elementary teachers from schools across Massachusetts tested the tabletop towers they'd built from index cards. Could such lightweight constructions support a small stuffed animal?
The exercise was one component of "Everyone Engineers," a workshop that introduces educators to the EiE curriculum. We host similar workshops all year round, but this one was special: All of the participants were here as scholarship recipients, selected through a competitive process to receive everything they needed to implement EiE in their classrooms . . . including this professional development experience.
The 20 scholarships awarded this summer were made possible thanks to a grant from the technology company Oracle to the Museum's National Center for Technological Literacy® (NCTL®), where EiE is based. [For a complete list of Oracle - EiE scholarship recipients, click HERE.]
A Workshop That's Professional AND Fun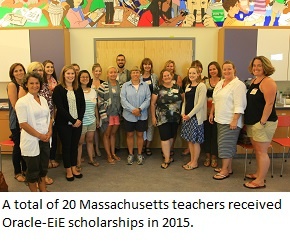 "To be offered a scholarship like this was amazing," says Katie LoBuono, the STEM specialist for South Street Elementary School in Fitchburg. LoBuono says, being the school STEM specialist is a fairly new role for her, and the professional development is very welcome. "The free materials kit that's part of the scholarship is also pretty wonderful!" she says. "I would love to encourage a partnership where all four elementary schools in our district work toward the purchase of more kits, so that more teachers have the opportunity to use EiE."
"It may sound silly," says Lisa DiPersio, who teaches fourth grade at Columbus Elementary School in Medford, "but at the workshop I appreciated feeling appreciated. The facilitators were excellent, I was treated as a professional, and everything was FUN! I hope Oracle is able to continue doing things like this, it's very useful."
Bringing STEM Back in the Classroom
DiPersio first learned about EiE last spring, when all the fourth grade teachers in her district were invited to an informational meeting. "In recent years science and social studies have gone by the wayside with all the testing for math and English Language Arts," LoBuono notes. "So now we're trying to bring STEM back in the classroom."
At the meeting, administrators handed out EiE materials, asking teachers to give them a try and provide feedback. But without professional development, DiPersio says, it was a challenging assignment. "I tried one of the units," she says, "but I can't say it was my best attempt." So she was thrilled to learn about the scholarships. "If I'm going to use the curriculum, I thought it would be really good to have a class on implementing it," she says. "Now I feel like I have most of what I need to get started."
Engineering That Fits in the School Day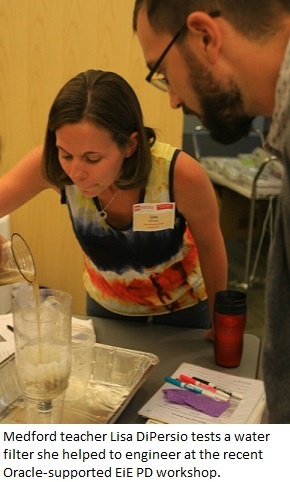 Massachusetts is in the process of updating the Massachusetts Science and Technology/Engineering (STE) Curriculum Framework, academic standards that, like the Next Generation Science Standards, place unprecedented emphasis on adding engineering to the mix of subject taught in the elementary grades. "Implementing engineering IN ADDITION to all the other curricula is difficult," DiPersio notes. "If you can integrate engineering with science and literacy, as EiE does, that makes it a lot easier."
After testing their index-card towers, the Oracle teachers went on to engineer water filters; LoBuono says, "It was easy to see how you could transfer this activity to the classroom and have the attention of EVERY child. Kids who may not be good at reading or math, or who are usually inattentive, it's amazing what they can do when you engage them in hands-on learning!" Students in twenty Massachusetts classrooms will have the opportunity to experience hands-on engineering this fall thanks to Oracle's support.