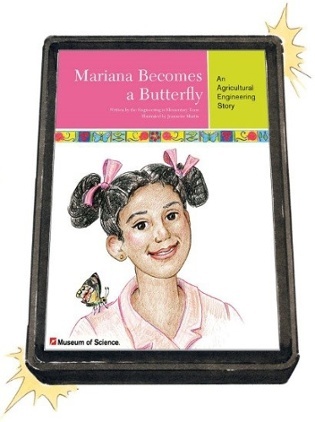 What features would YOU like to see in a digital storybook?
When teachers talk, we listen. You told us you love the storybooks that introduce each Engineering is Elementary unit . . . but you've also shared ideas for enhancements. So we're pleased to announce a new project here at EiE: the Digital Storybook Initiative. Digital storybooks are books you read on a tablet or computer; we're creating digital versions of all 20 EiE storybooks that will have a host of flexible features to support every learning style.
Now we need your help! Please share your thoughts on the most useful features for this new kind of book by taking a brief online survey.
The Top Five Features of a Digital Storybook
We've been combing the literature—and reading loads of digital books—to understand how a digital format could support STEM learning in the elementary classroom. Here are five features that rise to the top for us (and please complete the survey to tell us what YOU think).
Customizable Content

You could change the reading level with the press of a button!

The paperback EiE storybooks are written at a
5th grade reading level; with a digital format, you'll be able to customize the content depending on your needs. For example, when you read the story aloud to your class, you could pick a grade-appropriate version. Or if your class period is short, select a shorter story to read. If your students read the storybook on their own, you could choose the most appropriate version for each student.

Vocabulary Support

Every EiE storybook already includes a short glossary of science and engineering terms and other new words. But a digital storybook would allow students to select any word in the text and see a grade-appropriate definition. Students could also hear how the word is pronounced, get a translation into another language, or see an image that helps explain the term.

"Talking Books"

Imagine a book that kids can listen to on their own.

Children listen and comprehend a higher language level than they can read—that's why reading aloud is so beneficial to literacy development. With a digital storybook (and headphones), your students will be able to listen to the story while reading independently; choose to hear the entire story, or just a section; and hear the story over and over.

Adjustable Formatting

If you use an e-reader such as Kindle, you probably love how you can make the print bigger at the touch of a button. Digital storybooks could include similar settings to adjust the font type, text size, text color, and number of illustrations, so each book is just right for the student who's reading it.

Interactive Elements

We've got loads of ideas for interactive elements to support student learning—for example, quick-response questions or vocabulary fill-in-the-blanks that pop up next to a section of text. Interactives would also let you assess how your students are responding to key learning goals. Like every proposed feature of our digital storybooks, this is something you could toggle on or off, depending on your goals.
Support from a Visionary
The EiE Digital Storybook Initiative launched in spring of 2015 thanks to generous funding from The Gordon Foundation to our home institution, the Museum of Science, Boston. An earlier gift by the foundation led to the creation of the Sophia & Bernard M. Gordon Wing of the Museum, a beautiful, light-filled space where EiE and other Museum education projects are housed. Bernard Gordon is the founder of Analogic Corporation; he's also an engineering visionary who invented the scanners that are at the core of modern medical imaging, along with other breakthrough devices.
What's Next?
Like every EiE initiative, the Digital Storybook Initiative is research based and classroom tested. We'll be taking our prototype storybooks to elementary classrooms for pilot testing, collecting feedback from both teachers and students. That's another step where we'll need your help.
We're excited to be working on a new resource that so perfectly aligns with the EiE mission of providing high-quality elementary engineering education experiences to ALL children. Thanks in advance for taking the survey, and we'll keep you posted as the project progresses.
Engineering is Elementary is a project of the National Center for Technological Literacy® at the Museum of Science, Boston.