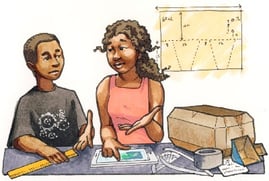 Imagine this scenario. You're doing an Engineering Adventures activity with the kids in your afterschool program. They've been working hard designing and testing . . . only to discover that their technology doesn't work as planned. When that bubble wand doesn't produce any bubbles, or the toy car made from a soda bottle doesn't roll, don't despair: this is a teachable moment.
Four Questions Bring Problems Into Focus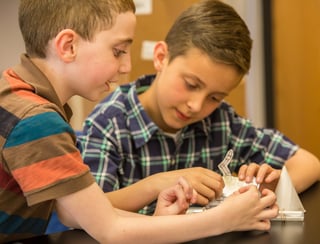 Instead of pointing out where the problem lies, you want to ask questions that help kids troubleshoot for themselves. Prompt your kids to collect evidence . . . ask questions that push them to try to understand what they
are seeing.
Here are four questions that help students observe closely:
"What happened when you tested your design . . . what did it do, and what did
you see?"
"What do you think is happening, and why do you think that?"
"What could you change about your design to make it better? Why?"
"What do you think will happen if you make that change? Why?"
As you can see, "Why do you think that?" and "How do you know?" should be your most frequently asked questions! When students engineer, they often design a solution that's less than perfect, especially on the first try. It's normal, and it's a positive part of engineering—we learn from failure. That's why the EiE Engineering Design Process includes the "Improve" step!