As springtime approaches we consider the impact of the sun's light on our daily lives, take a moment to discover new resources to use when teaching about our changing climate.
New from EiE, discover resources to help you and your students join the conversation about how the climate impacts us and how we can interact with our changing world! Support in-class and at-home learning online with all-new climate change lessons on our Learn.EiE platform, as well as a FREE Climate Justice panel for high schoolers!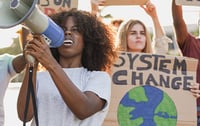 On March 16 (tomorrow!), for students in high school, make sure to check out MOS at School's all-new program Climate Justice: For People and the Planet. During this live, expert-led session, students will explore the requirements for and hurdles to solving the climate crisis. Panelists will engage with attendees and explore how their unique experiences bring value and strength to the future of climate solutions.
Register For Free Today and keep an eye out for more Virtual High School Programs coming soon!
Plus, for learning anytime, we have new videos, activities, discussion prompts, and more centered around climate change now available on our Learn.EiE platform for learners in grades 3–8! Sign up for this content and more today!
Go to

Learn.EiE.org

Sign up

to create an account or log in if you already have one.
Explore free content, including videos and activities!
Happy almost-Spring from the team at EiE