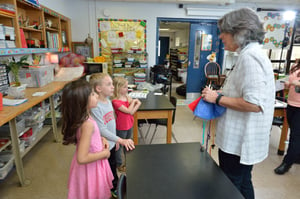 Happy National Engineers Week! This week on the blog, we're celebrating by highlighting our favorite engineering tool: the Engineering Design Process!
Imagine this scenario. Your students have worked carefully and enthusiastically to design a technology . . . only to discover that it doesn't work as planned. When that sailboat doesn't sail, or that model maglev train fails to levitate over the track, it's a teachable moment. You want to be ready, not with answers, but with questions that help students do their own troubleshooting.
Education journalist Steven Hastings once calculated that a typical teacher asks 400 questions a day, or roughly one question a minute. That extrapolates to 70,000 questions a year, or 2 to 3 million questions over the course of a teaching career. But not all questions are created equal. Certain questioning strategies are particularly effective; here are four of our favorites.
Build your questioning skills by watching the Engineering is Elementary Spotlight Video "Asking Good Questions." It lets you peek inside classrooms where teachers are using effective questioning strategies. Check it out below.
1. ASK LEARNER-CENTERED QUESTIONS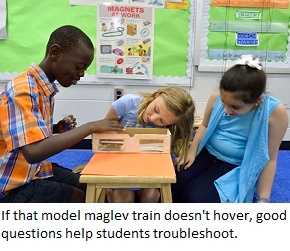 When you use learner-centered questions, you acknowledge each student as unique and in charge of his or her own learning. Learner-centered questions also help you get a sense of how each student thinks and where they might need support. Effective learner-centered questions make students feel supported rather than anxious; they challenge students just enough to make them feel motivated, but not discouraged.
SAMPLE LEARNER-CENTERED QUESTIONS:
"Will you tell me what you are making?"
"Can you tell me more about your design?"
"What materials did you choose?"
"Can you describe the materials you are using?"
2. ASK HIGHER-ORDER QUESTIONS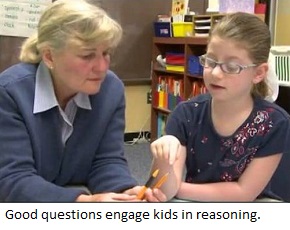 In contrast to lower-order questions (the kind you can answer purely from memory, like "How many poles does a magnet have?") higher-order questions require complicated thinking; students have to apply what they know, put ideas together, compare and contrast, or construct an argument.
SAMPLE HIGHER-ORDER QUESTIONS:
"What did you find out in your research?"
"Why do you think this will work?"
"Can you think of another solution?"
3. ASK PROBING QUESTIONS
"Probing" means "asking for more." Ask students to elaborate on their answers, to explain their reasoning, or to provide more detail. Probing questions are especially useful for figuring out what concepts students truly understand and what misconceptions they might have. Watch this EiE Video Snippet to hear an experienced teacher reflect on asking probing questions.
SAMPLE PROBING QUESTIONS:
"Tell me more about what you mean by that?"
"How did you come to that answer?"
"Let me see if I understand you. Are you saying . . . ?"
4. ASK FOR EVIDENCE
When students engineer, it's common for them to design a solution that's less than perfect, especially on the first try. Failure is a normal and positive part of engineering—we learn from failure. That's why the EiE Engineering Design Process includes the "Improve" step!
So when your students are testing their designs, ask questions that help them collect evidence . . . questions that focus students' attention on exactly what they are seeing. Close observation will help them see ways to improve their designs. "How do you know?" should be one of your most frequently asked questions.
SAMPLE EVIDENCE-GATHERING QUESTIONS
"What happened when you tested your design? What did it do? What did you see?"
"What do you think is happening? Why do you think that?"
"What would you change about your design? Why?"
"What do you think will happen if you make that change? Why?"
So get ready for classroom engineering with a suite of good questions. After all, "Asking questions and defining problems" is one of the eight key science and engineering practices that students are expected to engage in under the Next Generation Science Standards (NGSS). You want your students to master the art of asking good questions—and they will, when you modeling this practice for them during engineering activities.
Do you have an EiE teaching tip? Please share it!
Engineering is Elementary is a project of the National Center for Technological Literacy® at the Museum of Science, Boston.