A picture is worth a thousand words. A video is worth even more, when it saves you time and energy! That's why Engineering is Elementary offers "How-To Videos"—short segments you can stream from our website. Each video walks you through some lesson prep for the unit you'll be teaching.
Your EiE Teacher Guide does include detailed instructions on how to prepare for each lesson. But we know that different people learn in different ways! Watching a brief How-To Video is a convenient (and easy-to-understand) way to see how prepare your materials.
Sort, Organize, and Prepare!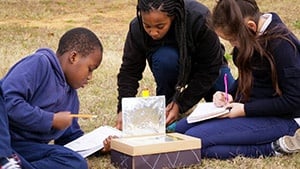 With some small modifications, a shoebox becomes a solar oven. (Image credit: Geocore Films)
Like any curriculum that emphasizes project-based learning, EiE lessons use a lot of . . . well, stuff! Pipe cleaners, tongue depressors, felt, and more. That means you'll need to sort and organize the materials before you hand them out to your student teams. In some cases, you'll also need to create or set up some system that the whole class will use; for example, the map of the imaginary city "Greentown," which students explore as part of the unit A Slick Solution: Cleaning an
Oil Spill.
For some units, you'll also need to manipulate or modify materials before you hand them out; for example, the shoeboxes that your students will turn into solar ovens for the unit Now You're Cooking: Designing Solar Ovens, or the cardboard mailing tubes they'll use to engineer knee braces for the unit No Bones About It: Designing Knee Braces.
See It, Make It, Do It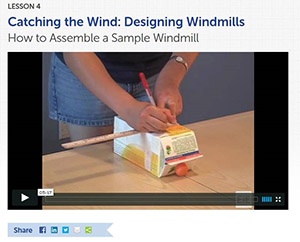 "Now where exactly should I drill that hole?"
Most EiE units are supported by two to six How-To Videos (the exact number depends on the number of items you'll need to construct, prepare, or modify). Browse the How-to Videos and you can learn how to assemble model flowers for the unit The Best of Bugs: Designing Hand Pollinators, or make a simple goniometer (a device for measuring how far a knee bends) for the Knee Braces unit.
You can also see exactly how to assemble the juice-carton windmill you'll need for the unit Catching the Wind: Designing Windmills, how to troubleshoot the various challenges that can come up when your students work with magnetic train tracks in the unit The Attraction is Obvious: Designing Maglev Systems, and much more!
You Don't Have to Be an Engineer . . .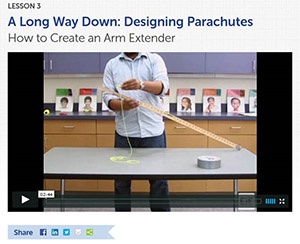 Pause and rewind whenever you need!
Teachers who have no previous experience with the circuit diagrams and electrical wiring used in electrical engineering tell us that the series of five How-To Videos for An Alarming Idea: Designing Alarm Circuits help make what might have been a daunting challenge clear and simple.
And if you're planning to teach the unit A Long Way Down: Designing Parachutes, but your school doesn't have a suitable staircase or high point from which students can test-drop their parachutes, you can learn how to make an "arm extender" that lets you raise each parachute high enough for an effective drop . . . and release it smoothly.
Browse our How-To Videos today and see how they can make your lesson prep quick and easy!
Engineering is Elementary is a project of the National Center for Technological Literacy® at the Museum of Science, Boston.