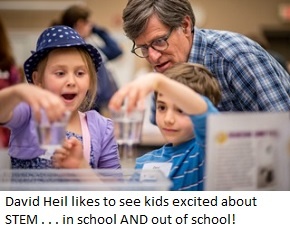 Oregon's adoption of the Next Generation Science Standards in 2014 means more elementary teachers in the state will be integrating engineering with classroom instruction in science. Engineering is Elementary's network of professional development (PD) providers has expanded to meet that need. We're pleased to welcome the Portland, OR team of David Heil and Mia Jackson as our newest collaborators.
Heil and Jackson will facilitate EiE workshops for teachers through their affiliation with the Foundation for Family Science & Engineering (FFSE). The independent nonprofit has a flagship program called Family Engineering (FE) that engages young children and their families in exploring science and engineering together.
Bringing STEM Home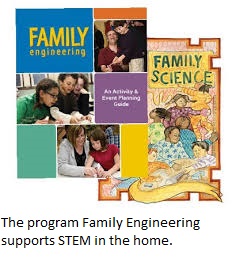 Heil and Jackson have created a unique workshop that engages educators with both EiE and FE. "Schools do EiE activities primarily in the classroom. But when kids do STEM activities at home, too, it helps them in school . . . and vice versa!" says Heil.
"We see wonderful opportunities to combine formal learning with afterschool and family engagement," he continues, "and we think the synergy we're seeing between how teachers use EiE in classroom programs and what parents and children can do with FE will build much broader community comfort with engineering."
Building Excitement with Hands-on Learning
Heil and Jackson have already facilitated their new hybrid workshop for schools in Oregon, as well as Idaho and Washington state. One set of workshops supported a district wide implementation of EiE and FE in Oregon's Central School District. "The Central teachers were apprehensive at first," Heil says. "But as they worked on the unit 'Marvelous Machines: Making Work Easier,' I could see that anxiety replaced with enthusiasm."
We're talking BIG enthusiasm. "One group started building and testing different kinds of simple machines on a really large scale," Heil says. "They were moving furniture, turning tables upside down to use as ramps, pushing tables together to make the ramp longer, and using chairs to boost the ramp inclination!"
"That same transformation and excitement is what we want for all kids," Heil says. "When more kids get inspired at a young age, and when more parents are willing to encourage their kids to consider engineering as a career option . . . in my mind, that changes the world."
New PD Initiative, Longstanding Relationship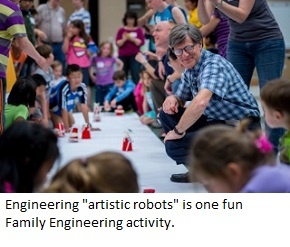 Though Heil and Jackson are new to EiE's PD network, FFSE's relationship with EiE is longstanding. When this independent nonprofit first received National Science Foundation funding to develop FE in conjunction with Michigan Tech University, EiE director Christine Cunningham was an advisor.
As the curriculum was developed, the team chose to include an adapted version of EiE's age-appropriate engineering design process. "We already had this great synergy around program development and program delivery, so it made sense to continue the connection by offering EiE PD," says Heil.
Facilitating PD workshops is just a small part of the work that Heil and Jackson do to advance STEM education as education consultants. For example, one of their clients is the National Academy of Engineering (NAE).
"We did an original study for them to find what integrated STEM looks like," Heil says. "We are currently providing research for a new online NAE resource for teachers called "Link Engineering." That website is now active in beta-test mode . . . check it out!
Link Engineering aims to form a community of STEM educators. JOIN TODAY!