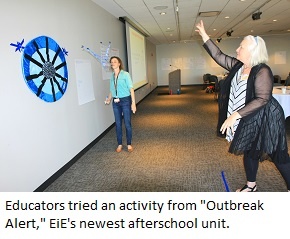 The Skyline Room at the Museum of Science, Boston has (as its name suggests) a stunning view up the Charles River to the iconic Longfellow Bridge. Usually, it's a place for formal events: luncheons or cocktail parties. But if you peeked inside last week, you might have seen a crowd of excited educators engaged in an offbeat game of darts, lobbing Velcro-studded plastic cups at an equally Velcro-studded bullseye.
The "game" was actually one of several educational components at an important event for Engineering is Elementary professional development (PD) providers: the Raytheon – EiE Invited Symposium. This two-day meeting brings EiE PD collaborators from across the nation to our Boston headquarters to learn about new elementary engineering resources and initiatives and—more importantly—to share their own innovations and strategies for providing effective EiE PD.
Learning is a Two-Way Street at PD Symposium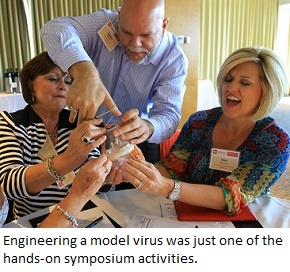 The cup toss was an engineering activity chosen to introduce the educators to "Outbreak Alert!," the newest engineering curriculum unit created by EiE for our middle-school out-of-school time curriculum Engineering Everywhere. (The "target" was actually a model human cell, and the paper cups were model viruses; the idea was to engineer "antivirals," or additions to the cups, that prevented the viruses from sticking to and "infecting" the cell.)
"Good ideas were literally flying at this event," says Shannon McManus, EiE's PD program manager. "On-line professional development, effective ways to roll out the curriculum to an entire school or district, strategies for enhancing EiE's connections to new academic standards . . . every educator brought great insights to the table, and left with new things to try back home."
Nearly 30 professional development (PD) providers from 18 institutions including the Arizona Science Center, University of Chicago, University of Alabama – Huntsville, and ASSET STEM in Pittsburgh attended the symposium. "One comment we kept hearing from the educators over the course of the event was how exciting and refreshing it was to be able to share their experiences," says Elissa Jordan, one of EiE's PD providers.
"They're united by this common goal of enhancing and expanding STEM education through practice, innovation, and research, but the restrictions of distance, time, and funding pose significant challenges to their ability to learn from one another," Jordan continues. "Raytheon support makes possible for some of the most dedicated STEM educators to engage in collaborative learning. Considering the number of teachers these individuals and organizations reach, the symposium is incredibly impactful."
Raytheon Initiative Supports High Quality PD Nationwide
The symposium is just one element of a much larger initiative, supported through a $2 million award by Raytheon to the Museum of Science, Boston. The overall goal is to enhance STEM education nationwide by jumpstarting use of the EiE curriculum in high-needs schools and districts. The initiative includes support to establish three regional centers where teachers can find EiE professional development (including the Arizona Science Center and UA-Huntsville), along with a national scholarship program that brings curriculum materials and PD to individual teachers and to teams of teachers within a district.
So the PD providers who attended this year's symposium represent a fraction of the hundreds of educators who have become more knowledgable about elementary engineering thanks to Raytheon support.
Want to try the Outbreak Alert activity yourself? Download the curriculum unit today!
Engineering is Elementary is a project of the National Center for Technological Literacy® at the Museum of Science, Boston.