Even before we began designing our preschool curriculum, Wee Engineer, we knew that we would have to create new activities, different context-setting tools, and even a new Engineering Design Process (EDP). But we never thought we'd be trying our hand at songwriting! At EiE, we have a very involved curriculum development process. We meet with teachers and specialists and learn what works in the classroom. During an early Wee Engineer focus group, a teacher suggested setting the steps of the EDP to music with accompanying dance moves, because it would help teachers reinforce the vocabulary with their kids. The other teachers enthusiastically agreed, and they convinced us that an EDP Song would enhance the curriculum and get kids excited about the process they were engaging in. Never to be intimidated, our curriculum team got together to figure how to engineer the perfect EDP song.
A Creative Collaboration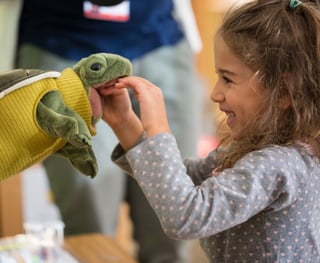 A small team of curriculum developers sat down to begin brainstorming lyrics and melodies—and with their combined brainpower, and the help of a ukulele, a preliminary song was born! There were several verses sung in the tune of a familiar melody, Farmer in the Dell. We sent the lyrics to one of our pilot teachers with high hopes that the kids would not only enjoy singing a song about who engineers were and what they did, but they would begin to learn something about the engineering design process as well. We never know what feedback our pilot teachers will offer, but we know the dedicated and amazing teachers who test early versions of our curriculum always have valuable feedback to offer. This particular pilot teacher realized the EDP section would stick with children more if it rhymed. She even improvised some lyrics. When she struggled to figure out a word that rhymes with "create," we had another surprise collaborator save the day! A student suggested, "'cause we are great!" We absolutely loved this suggestion! We took their advice and trimmed our verses and polished our rhymes. Check out the current version of the song and the accompanying dance moves below: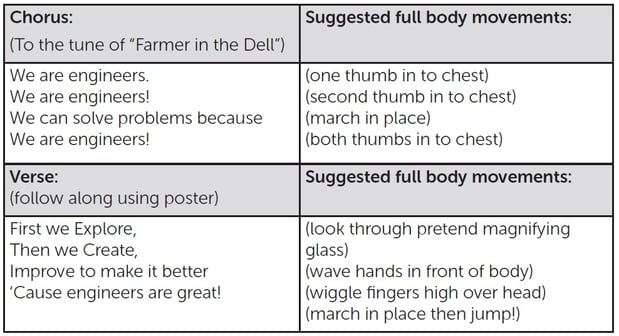 Educational Earworm
Wee Engineer project manager Katy Laguzza knows that a song can't replace the experience of exploring engineering activities. She says, "The primary purpose of this song is to introduce the EDP language to children in a fun way that integrates well into the preschool routine." Reinforcing these new vocabulary words through song and dance will help preschoolers keep them in mind as they go through the lessons, and beyond—pilot teachers have told us that their students love the song so much, they keep singing it to themselves throughout the day and request repeat performances weeks later! (We've heard it hummed around the office, too!) We invest thousands and thousands of hours to create our engineering curriculum and our pilot teachers are integral part of that process. They provide valuable insights that help us see how our curriculum looks in the classroom and how we can best improve it. Check out the video below and stick around until the end to catch an adorable rendition of the EDP song!
Hands-on engineering activities empower preschoolers to see themselves as problem solvers. Set your young learners up for success.