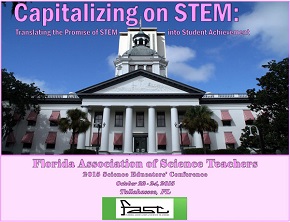 Later this month, the Florida Association of Science Teachers (FAST) will hold its annual conference in Orlando. The conference theme is "Capitalizing on STEM: Translating the Promise of STEM into Student Achievement," and the conference organizers promise a comprehensive overview of the K-12 practices that support successful STEM learning.
Engineering is Elementary, the award-winning K - 5 curriuculum, will be represented at the FAST conference! Visit Judy Campbell in booth #4 in the exhibit hall; she's looking forward to meeting you and answering your questions about how hands-on engineering supports learning in ALL subjects . . . and develops 21st century skills like creativity and collaboration.
Resources for Florida Teachers!
If you're considering adopting EiE in your school or district, we have a variety of resources to support you. Our engaging, hands-on professional development is the ideal launchpad for elementary teachers who will be engineering for the first time; our Boston team can bring a workshop to your site, or we have professional development providers based in Fort Myers (at the Imaginarium), Orlando (the Orlando Science Center), and Broward County.
Although Florida has not adopted the "official" Next Generation Science Standards released in 2013, the state did adopt what it calls the Next Generation Sunshine State Standards for Science in February of 2008. Wondering whether EiE will help you meet those standards? The answer is yes, and for a document that shows exactly how the curriculum aligns to these Florida standards, click HERE.
Peek Inside an Elementary Engineering Classroom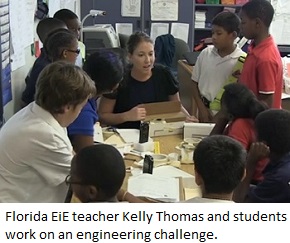 If you're new to K - 5 engineering and wondering, "How in the world can young children do this?!" . . . or if you've having trouble picturing what it will be like for you to teach engineering in the elementary classroom, we've got some show-and-tell for you. EiE's extensive Classroom Video collection lets you peek inside classrooms across the country to see what our lessons look like.
The collection includes a number of videos shot in Florida schools. Browse the links below to see candid footage of students working on each of the four lessons in a typical unit, classroom teachers demonstrating effective questioning and facilitation, and post-lesson interviews with the teachers. You'll get a great look at how engaged, creative, and excited students become when they start to self-identify as engineers.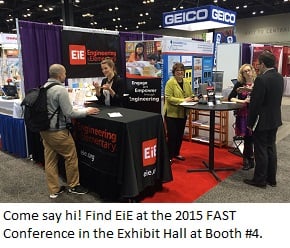 The use of EiE is spreading fast in Florida districts. For example, Broward County was recently awarded an 11.9 million federal MSAP (Magnet Schools Assistance Program) "Sprouting STEM" grant to place EiE in six district schools—every class, every grade—with the goal of enrolling minority and economically disadvantaged students in magnet schools that provided outstanding education. Our curriculum is now fully implemented in all six schools, reaching about 2,400 students.
We looking forward to seeing you at the FAST Conference later this month and talking about how STEM learning can sprout and grow at your school.
Engineering is Elementary is a project of the National Center for Technological Literacy® at the Museum of Science, Boston.