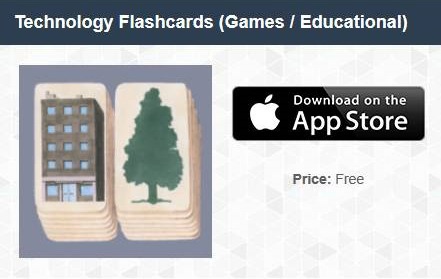 Entertaining and educational! Get it in the App Store.
For a modern take on old-fashioned flashcards, check out "Technology Flashcards," the Engineering is Elementary iOS app. This digital game makes learning about technology and engineering fun for elementary-school-aged children. If you have access to a set of iPads for your classroom or summer camp, try it and see!
Do You Know What a Technology Is?
Technology Flashcards is a simple yet powerful game; it tests what you know about the term "technology." Launch the app, and a picture of an everyday item appears on your screen: a cup, a shoe, a tree, and so on. Quick: is this thing a technology? Click "yes" or "no." Then move on to the next picture. Work your way through a whole set of images, then check your score.
Even Some Grown-Ups Aren't Sure!
The curriculum developers at EiE created this game to address a common misconception. If you ask young children, "What is a technology?" many will tell you it's something high-tech, like a computer or a smart phone. (Some adults will have the same misconception.)
It's also quite common for kids and adults to think that only mechanical devices, like cars and bikes, and devices powered by electricity, like lamps and refrigerators, are technologies. But the definition of a technology is much broader! A technology is anything designed by human beings to
help solve a problem or
meet a need.
Challenge Your Assumptions
It's exciting to watch children arrive at the understanding that everyday items which are decidedly low-tech (and require no electricity whatsoever) are actually technologies! (See it yourself—scroll to 7:30 in the video at right.) A pencil is a technology, a paper bag is a technology, a chair is a technology . . . even a piece of string is a technology, if you use it to tie your shoe or secure a package.
Meanwhile a lightning bolt is, indeed, an electric discharge, yet it's NOT a technology, since it's not created by humans. The wind can accomplish work to solve a problem—for example, turning a windmill—but it's not a technology either.
"Technology Flashcards" can be used with Engineering is Elementary, our curriculum for grades 1–5, or with EiE's afterschool curriculum, Engineering Adventures. But it's also fun (and educational) all by itself. If you need to entertain some young children on a rainy summer day, check it out . . . and share it with friends!
Learn more about Engineering Adventures, the hands-on out-of-school time engineering curriculum for grades 3–5.
Engineering is Elementary is a project of the National Center for Technological Literacy® at the Museum of Science, Boston.