Here's a STEM activity for summer camp that's literally timely! It's About Time is a curriculum unit that's all about timekeeping; it's also one of the newest offerings from Engineering Everywhere (EE), the out-of-school-time curriculum for middle schoolers developed here at Engineering is Elementary.
Explore the History of Timekeeping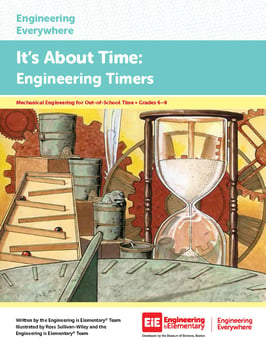 Think about it! Today's youth have grown up with digital clocks all around them—on kitchen appliances and TV screens, in cars and on banks, and especially, on their phones. Indeed, 60 percent of all 16-to-34-year olds now use a cell phone as their primary timepiece. Yet not very long ago, every clock, wristwatch, and timer was a mechanical device—something that was designed by a mechanical engineer. Looking further back in time, ancient civilizations had their own ingenious ways of marking time.
It's About Time gives youth a chance to explore the history of timekeeping and introduces them to the field of mechanical engineering. Your campers can try their hand at engineering a variety of timekeeping devices, including an hourglass and a water clock. Then, like working engineers, they'll go beyond a prototype to improve their designs. The capstone of the
unit is an Engineering Showcase—a great way for youth to develop their communication skills, and also a great way to involve other campers or family members in the
engineering excitement.
Lessons that Fit Your Schedule and Budget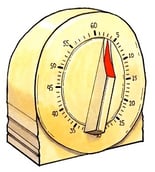 While we're speaking of time, it's worth noting that, like all EE units, "It's About Time" can be scheduled flexibly, to meet the needs of your program; the two prep activities and six lessons provide a total of 6 to 10 hours of hands-on fun and learning.
Other noteworthy features include the engaging video that introduces the unit—it's a virtual trip to a modern clock factory, where you meet two engineers who design creative clocks for all kinds of clients. The activities in "It's About Time" call for inexpensive materials that are easy to source, like plastic containers, beads, and modeling clay—things you may have in your supply closet already! Most importantly, these lessons have been carefully designed and tested to be highly engaging for 10-to-12-year olds.
Download This Unit Today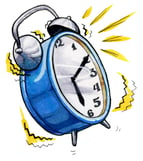 We know that many out-of-school-time programs face budget constraints, and we're pleased to share that thanks to the generous support of our project sponsor, i2Camp, lesson plans are available to download from the project website at no charge.
If you prefer a printed Educator Guide, you can get one through the EiE Store. No time to shop for supplies? We also offer convenient Materials Kits.
Do you used Engineering Adventures in your program? Got a tip for other OST educators? Share it!
Engineering is Elementary is a project of the National Center for Technological Literacy® at the Museum of Science, Boston.