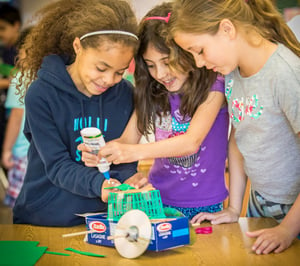 We know that budgets at afterschool programs, camps, and schools can be tight, which is why the materials needed to teach EiE's engineering activities are "inexpensive by design." Our curriculum designers try their best to require supplies that teachers can easily locate at their local craft or hardware stores. If you are short on time and looking for an inexpensive afterschool engineering activity with easy-to-source materials, don't be discouraged—Go Green: Engineering Recycled Racers, one of our Engineering Adventures units, is the perfect activity for you!
The More Trash, the Better
Recycled Racers is designed to introduce kids in grades 3-5 to the field of "green engineering" by challenging them to find and reuse as many materials as possible for an engineering design challenge. Kids are led by India and Jacob, our world-traveling duo and the hosts of our Engineering Adventures activities, through Senegal—a country with a strong culture of reuse and recycling. To learn more about how reuse is an integral part of life in Dakar, watch this video and check out the rest of the additional educator resources for the unit on our website. In Recycled Racers, kids design cars with recycled parts, then improve and test them in a Recycled Racer Rally. The parts for the cars can all be taken out of your recycling bin—we compiled a table of suggested materials for wheels, axles, and racer bodies, but make sure you have your kids brainstorm all of the possibilities!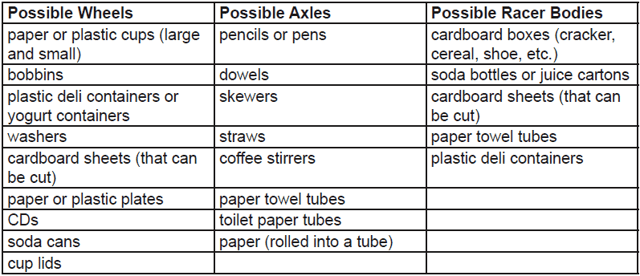 Reduce, Reuse, Recycle . . . Race!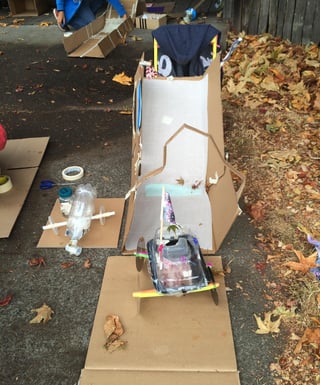 STEM coordinator Jennifer Richards knows that Recycled Racers is a great choice for an out-of-school time engineering program on a shoestring budget. She recently taught the unit at a standalone summer camp out of her home in a small rural town and emailed EiE to let us know how well the unit had worked for her. She wrote that the kids who attended her three-day engineering camp "loved it" and that "they're all coming back this summer for more!" She also noted that Recycled Racers was not only one of her favorites, but also "certainly one of the most cost-effective units." We loved the photos she shared of racers that were built out of rotisserie chicken containers and plastic cookie packages. Richards hopes that her photos and story will encourage more educators that are working within similar time and budgetary constraints to get started with engineering.
Off to the Races
Download the educator guide for Engineering Recycled Racers for free today to start planning your own cost-effective summer STEM fun. If you're having difficulty finding any of the materials you need for Recycled Racers or any other EiE units, give us a call at (617) 589-0230 or email us at eie@mos.org. Our customer service team is ready to help you out with material sourcing questions and any other inquiries about our curricula. Tight on time and don't have a recycling bin full of potential racer parts? We sell a premade materials kit that contains all of the supplies you'll need to complete the Recycled Racers activities with a group of 24 kids. Additionally, you can send home the handy pre-made letter we include in each Engineering Adventures unit to request that young engineers' families pitch in any materials that you may not have on hand.
Have you already taught Recycled Racers or any of our other Engineering Adventures units? If you have any money-saving teaching tips, let us know in the comments!