On June 23rd, members of our leadership team, Jill Olson and Heather Gunsallus, hosted an incredible webinar for STEM educators on edWeb. Their presentation, Hands-on and Virtual: STEM Learning from a Distance, covered some of our ongoing research on the impact of hands-on learning for students in science, technology, engineering and mathematics, as well as examples for adapting STEM topics for distance learning.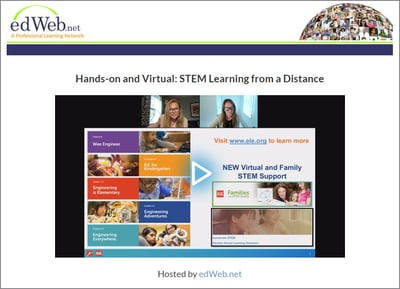 With over 900 educators participating from across the globe, Jill discussed the seven key considerations for hands-on virtual learning, introduced EiE's Virtual Learning Series and participated in a collaborative conversation with educators about real solutions for their classrooms.
Here's what some of our participants had to say about the webinar:
Jeannie B. said: first webinar that has given actual usable ideas rather than all think tank research! thx!
Kyle M. said: I am so thankful to be introduced to EIE - students loved the activity that we were doing. I hope that EIE helps make them able to be completed remotely if possible
Suzann A. said: I am very happy to have these ideas and resources!
edWeb made the recording available for everyone; all you need is an email address to access it. You can find it here! The information covered will be of interest to preK through middle school teachers, librarians, STEM coaches, science specialists, and school and district leaders. And, you're eligible to earn a CE Certificate directly through edWeb after you've completed a short quiz!