Happy holidays from EiE! We are so proud to have had the honor of creating resources for your homes, classrooms and clubs this year. In celebration of all things STEM we learned this year, please enjoy these 12 days of STEM-themed holiday activities, including games, videos, and more for the whole family to enjoy. Plus, as a special bonus, check out all the holiday-themed STEM activities at the end to keep your students engaged in learning as the holidays approach.
---
Day 1:
Enjoy the electric sounds of Carol of the Bells — played on Tesla Coils! Link
---
Day 2:
Help Purna and Ved engineer musical instruments to welcome their grandparents when they come to visit for the holidays with the Sounds of Celebration activity!
---
Day 3:
Download the free Technology Deck of 52 cards to play seven different games at home or on-the-go!
---
Day 4:
Imagine your future with Careers for Engineers and take our quiz to find what job might be right for you!
---
Day 5:
Take a Grand Tour of our Solar System with this video from our NASA partnership!
---
Day 6:
Help India and Jacob learn about space hazards and help engineer part of a space suit for a new NASA mission in our In Good Hands Unit!
---
Day 7:
Explore the design and production of bioplastics, including the engineering design process and developing your own plastics with our BioTech Engineering Design Challenge.
---
Day 8:
Download our digital STEM storybook, Mariana Becomes a Butterfly, featuring hands-on design challenges and an engaging story that incorporates agricultural engineering lessons.
---
Day 9:
Sign up for a free Learn.EiE.org account to enjoy our new climate content!
---
Day 10:
While you're enjoying the free videos and lessons on the Learn.EiE.org platform, check out our 'Art Meets Science' content!
---
Day 11:
Ask yourself, Did the Dinosaurs Disappear? and find out the answers with your learners!
---
Day 12:
Enjoy 90 days free of Pear Deck Premium and enjoy our new resources to engage students in learning and discussion about climate change!
---
Additionally, check out some of these holiday themed STEM activities that you can complete in-class or students can do with their families at-home to keep the learning fun going in and out of class.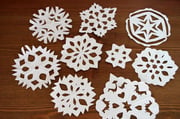 Paper Snowflakes
Make paper snowflakes to help your students practice pattern, symmetry, and mirror-recognition. Take square pieces of computer paper, fold them into quarters (or eights) and instruct students to cut along the fold lines. Once they've cut their design of choice (with safety scissors or adult supervision), have them unfold their snowflakes and examine their final design! What did they think the snowflake would look like? Was this the pattern they expected? How can students recognize pattern development through this activity?
---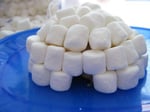 Marshmallow Igloo / Snow Fort
Using mini marshmallows, water, and toothpicks, task your students to design and build a miniature, model marshmallow igloo that can keep them warm through winter. (Water makes marshmallows sticky, like cement between bricks, and toothpicks for structural support). Before building your students are able to come up with a plan for their igloo, then they are able to reflect and decide if they would have made any changes to their original plans.
---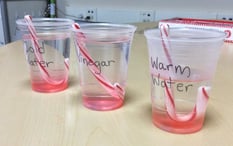 Melting Candy Canes
Does temperature impact the rate that a candy cane melts? Explore with your students with this simple experiment. Begin by giving each student a candy cane (always check for food allergies) and a clear, plastic cup. Ask your students to begin by examining the candy cane, what do they notice? Ask them to hypothesize the fastest ways to melt a candy cane using water and time. Will hot water melt them faster than cold water? Ask your students to decide and fill their cup with the water temperature of their choice. (Do not use boiling water, tap hot should suffice). At the same time, all students should put their candy canes into their cup of water and begin observing the chemical reaction as the candy canes begin to melt. After a set amount of time, have the students come back together to discuss their findings. (If resources are limited, do this in a small group setting).
---

Magic Milk
Combine the colors of the holidays with a bit of chemistry. Begin by distributing small paper bowls (or any shallow container to hold milk) to your students and pour enough milk into the container so it's about ½ inch deep. (Tip: using milk that has a higher fat content will provide the best visual for this experiment). Place several drops of red and green food coloring on top of the milk in the dish. Using a q-tip and a bit of dish soap, ask students to gently touch the drops of food coloring and watch the magic begin! What happens?
---

Tallest Tree Challenge
This low prep, simple, fun activity is sure to get your students thinking like structural engineers. Using paper or plastic cups (green if you have them) task students to build the tallest possible tree with the number of cups provided, exploring a variety of designs.
---
What other holiday themed activities do you have in your teacher tool belt? Let us know in the comments your best holiday themed activities to keep STEM learning fun, engaging, and relevant!