We know that EiE's Habits of Mind encourages student growth, but did you know how we consider social emotional learning in our resource development? Students' SEL learning is key to helping kids achieve their best selves, both in and out of the classroom.
The 5 core skills of Social Emotional Learning are:
Self-Awareness: The abilities to understand one's own emotions, thoughts, and values and how they influence behavior across contexts.
Self-management: The abilities to manage one's emotions, thoughts, and behaviors effectively in different situations and to achieve goals and aspirations.
Responsible decision-making: The abilities to make caring and constructive choices about personal behavior and social interactions across diverse situations.
Relationship skills: The abilities to establish and maintain healthy and supportive relationships and to effectively navigate settings with diverse individuals and groups
Social awareness: The abilities to understand the perspectives of and empathize with others, including those from diverse backgrounds, cultures, and contexts.
EiE's activities, curricula and resources are all built with a focus on developing these skills, helping students to collaborate effectively, persist and learn from failure, weigh the implications of solutions and see themselves as problem solvers. Some examples of how we achieve this are:
Wee Engineer

®: Facilitators use a hand puppet to introduce engineering challenges to students because it gives them a reason to engineer. The puppet is asking for help with a problem tapping into the want that children have to help.

EiE

®

for Kindergarten

: Students work together to help protect animals. Through their work students are tasked to consider the feelings, emotions, and safety of the animals in each challenge.

Engineering is Elementary

®

, 2E

: Multicultural story books foster explicit discussion of character traits and social emotional skills surrounding a diverse collection of characters.
Our hands-on activities foster opportunities for both independent and group learning, as well as problem solving and systems thinking by allowing students to create efficient solutions to their problems using abstractions and evidence-based decision-making. Our focus on STEM literacy doesn't just build cross-curricular connections but also promotes effective communication skills, builds cultural competency and encourages thoughtful engagement.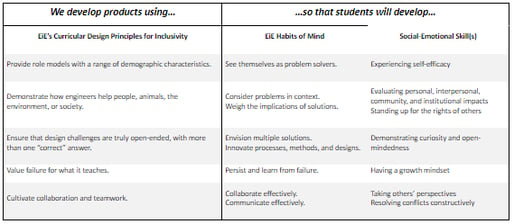 As we expand the uses for the EiE Habits of Mind and build on more SEL skills with our resources, we want to hear from you! How do you use EiE resources to build social skills? Are there other ways you promote SEL learning? Let us know in the comments!