National Teacher Appreciation Week is next week,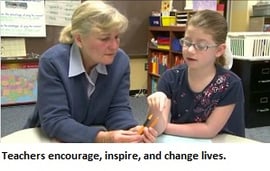 but I'm giving an early shout-out to my fourth-grade teacher, Miss Fitzgerald. She made science a priority, and I loved it. We learned about tornadoes, measured plant growth, and hatched baby chicks right in the classroom.
Here's another early Teacher Appreciation Week shout-out. All of us here at EiE send a huge THANK YOU to the hundreds of teachers and afterschool educators who have pilot-tested our elementary (and afterschool) engineering curriculum units, opened their classrooms to our video team, or collaborated with us in so many other ways.
Who knows better the challenges, opportunities, and constraints in an elementary classroom than the teachers who are there every day? Your wisdom helped make EiE successful, and we are so grateful.
Teachers Deserve More Than an Apple
Almost everyone has a story about a teacher who gave much-needed

encouragement, opened the door to new opportunities, or saw potential that others missed. Teachers can have a profound impact on students' lives, and during Teacher Appreciation Week, teachers most often get recognition from students and their parents. But teachers deserve appreciation from other quarters too: school administrators, politicians, and the general public.
Unfortunately, in many cases they don't seem to be getting it. According to the NEA, nearly half of all new teachers leave the profession within five years, and a 2014 report from the Alliance for Excellent Education and the New Teacher Center finds teachers leave because they feel discouraged by lack of administrative support, the isolated working conditions, and the lack of collective teacher influence on schoolwide decisions.
In the Huffington Post blog "Why I Quite Teaching," former teacher Adam Kirk Edgerton probably speaks for many teachers when he recalls feeling "powerless," like a cog in a machine.
By Teachers, For Teachers
What's the solution? It's not simple. Wider support for teachers to achieve board certification—and wider commitment by teachers to become certified—is one step toward feeling more powerful. Board certification means you're met standards set by fellow teachers, just as board-certified doctors meet standards set by their peers. "Created by teachers, for teachers," says the National Board for Professional Teaching Standards.
Meanwhile, an old-school hand-written thank-you note to your favorite teacher during Teacher Appreciation Week isn't a magic bullet, but it's still worth doing! Or be modern: the National Education Association (NEA) and National PTA want you to thank the teacher who influenced you on Twitter. Use the hashtag #ThankATeacher.
For bigger impact, how about a gift card—so teachers can purchase classroom supplies the school budget doesn't cover?
Engineering is Elementary is a project of the National Center for Technological Literacy at the Museum of Science, Boston.