People call Bernard Gordon an engineering visionary—and no wonder! The founder of three pioneering tech companies played a leading role in developing transformative modern technologies that include America's first commercial computer, the first "instant imaging" computer-aided tomography (CAT) scanner, and digital Doppler radar.
Having accomplished so much, Gordon is giving back to the next generation of engineers. With his wife Sophia, he established The Gordon Foundation to support innovative engineering leadership training and engineering education reform, and last week, EiE's home institution, the Museum of Science, Boston, was pleased to announce a $5 million gift from the Foundation that will significantly expand the Museum's ability to transform engineering and technology education across the United States. (Read the full press release here.)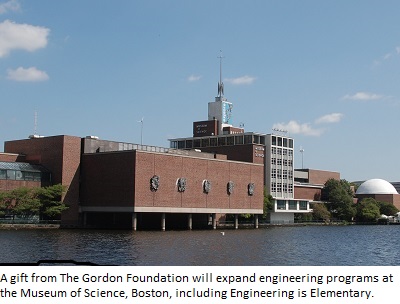 The gift allows the Museum to launch a new initiative, the Gordon Family Young Innovator Program, and expand both the Traveling Programs that bring engineering activities to regional schools and the on-site Engineering Design Challenges Program. Here at EiE, we're thrilled that the gift will also allow us to launch some long-planned initiatives:
All of this new work builds on a foundation made possible by a $20 million gift from the Gordon Foundation in 2006 making it the largest private donor in the Museum's history and fueling the mission of the National Center for Technological Literacy® (NCTL®), which was established by Museum president and director Ioannis Miaoulis in 2004 to integrate engineering as a new discipline in both museums and schools nationwide.
Planning for the new EiE initiatives is already underway. Watch this space for updates on our progress!
Engineering is Elementary is a project of the National Center for Technological Literacy® at the Museum of Science, Boston.