The world faces grave environmental challenges—climate change, pollution, overpopulation, loss of biodiversity, or ozone layer depletion—that we can address only with STEM knowledge and skills. That's why the National Environmental Education Foundation created Environmental Education Week (EE Week) to promote environmental learning for kids in grades K – 12.
EE Week (April 19 – 25th) is almost here. Making a difference for the environment often involves engineering new technologies, so why not celebrate with some hands-on green engineering?
The four engineering modules listed here are from the EiE afterschool programs Engineering Adventures and Engineering Everywhere. They're free, fun, and fit perfectly with the themes and goals of EE Week.
Turn Cast-offs into Cars
Recycling is big in Senegal. Kids often make their own toys by repurposing items that would ordinarily be discarded. The Engineering Adventures unit Go Green: Recycled Racers draws inspiration from this national engagement in recycling. Try your hand at engineering toy cars from recyclables, then compete in a Recycled Racer Rally!
Explore Earth Systems with High-Flying Technologies
Did you know America's space agency has an environmental mission? Yup, NASA researchers DO study Planet Earth along with the other planets. They build and deploy airborne and space-based observatories and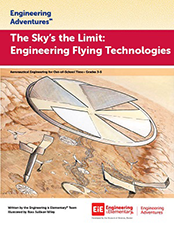 sensors to learn more about Earth systems including oceans, ice sheets, forests, and the atmosphere. Get with the program and do your own aeronautical engineering with the design challenges in the Engineering Adventures unit The Sky's the Limit: Engineering Flying Technologies.

(By the way, NASA invites you to celebrate Earth Day by sharing pictures of your favorite Earthly place using social media. Use the tag #NoPlaceLikeHome—and say you were #EiEInspired!)
Fight Flooding—Control Stormwater Runoff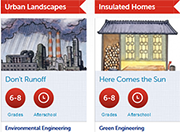 You don't notice it unless it's raining, but stormwater runoff is a huge environmental problem. Sprawling cities have hard surfaces that keep water from soaking in, the way it does in natural ecosystems; instead, water runs off, causing flooding . . . and also washing pollution into rivers, lakes, and oceans. The Engineering Everywhere unit Don't Runoff: Engineering an Urban Landscape invites young engineers to redesign a cityscape and reduce runoff.
Conserve Energy—Engineer an EcoHouse
Keeping your house warm in the winter and cool in the summer takes a lot of energy--energy that usually comes from burning fossil fuels. The simplest way to reduce your carbon footprint is to use less energy, but can you do it and still stay comfortable? Student engineers design and test an energy-efficient model home with the Engineering Everywhere unit Here Comes the Sun: Engineering Insulated Homes.
All of these engineering modules call for inexpensive, readily available materials, and the lesson plans are available as FREE downloads—just click the links provided.
Have fun engineering—and please share pictures of what you create on the EiE Facebook page.
For pre-printed Educator Guides and pre-assembled Materials Kits, visit the EiE Store.
Engineering is Elementary is a project of the National Center for Technological Literacy at the Museum of Science, Boston.